Description
Underground gate opener NICE - METROKIT
Discover this discrete and powerful underground gate opener system NICE for your dual swing gate EMALU. The NICE METROKIT is out of sight, the automated gate system is completely invisible and adapted for installation up to 2.3m per leaf.
Durable : the materials used for the METROKIT are corrosion resistant as the stainless steel foundation box (2.5mm) is chamfered with a cataphoresis finishing.
Safe : The NICE METROKIT has IP67 waterproof protection, connection for EN compliant 8.2K safety edges. Automatic slowdown mode when opening / closing, but also double detection technology for a safe use with kids.
Practical : allows gate opening of 90° - 180°. Easy one-button programming. Opening mode for pedestrians allowing you to open your gate partially.
Technical features :
✓ Out of sight installation for dual swing gate upt to 2.3m (per leaf).
✓ Cataphoresis stainless cases 81 mm height
✓ Waterproof protection IP67
✓ Adjustable mechanical stop
✓ Integrated BlueBus technology
✓ Automatic fault diagnosis
✓ Delivered with rechargeable batteries in case of power failure (PS324)
✓ Compatible (optional) with NICE SOLEMYO
30 months manufacturer guarantee
The kit contains:
2 Irreversible electromechanical motor 24V and 230V A.C. with magnetic encoder (XME2024)
1 control panel with OXI receiver (MC424L)
1 pair of photocells and fixation (EPM)
1 flashlight with integrated antenna (EL24)
2 foundation boxes (XMBOX)
2 remote controls (ON2E)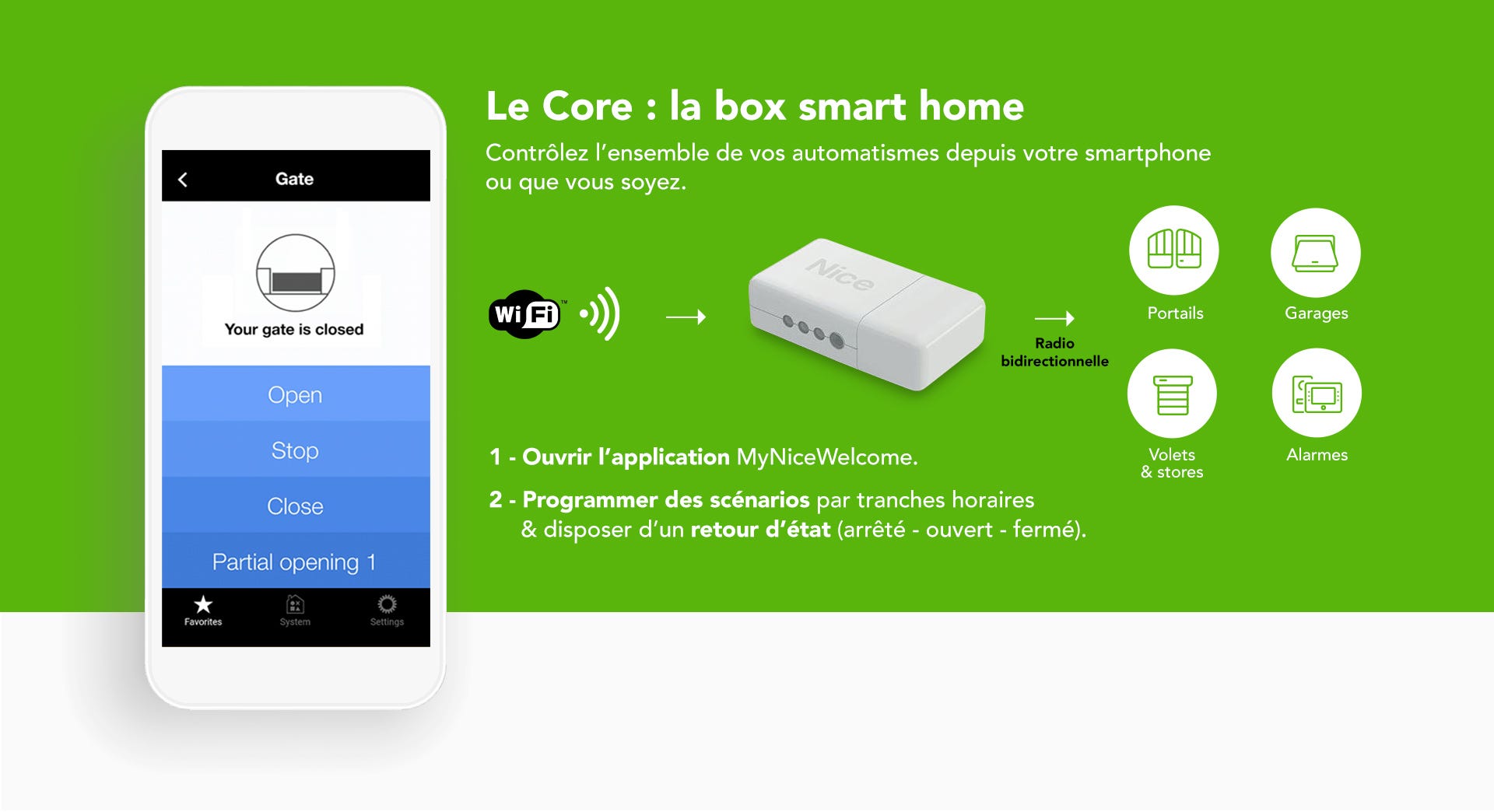 Downloads
Warranty
Warranty

3 years

Shipping
in

5

days
This product is guaranteed by the NICE brand network for a period of 3 years subject to assembly and installation in accordance with the instructions for use and use under normal conditions
Features
Underground gate automation for dual swing gate
- Weight: 11 kg
- Power supply 24 Vdc and 230V A.C. 50/60Hz
- Max draw (A) : 1.9
- Power (Watt) : 120W and 250W
- Max Torque (N) : 320
- Opening time (90°): 18
- Gear ratio: 1/1152
- Duty cycle: 30%
- Protection rating: IP67
- Motor's thermo-protection: 150
Recommended Products
Electric gate opener NICE MetroKit for dual swing gates - underground installation