Aluminium sliding driveway gate DETROIT
Description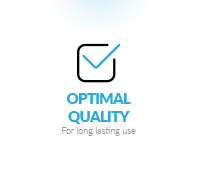 Mister Gates products are both robust and lightweight for everyday use by all members of your family. Your gate will not warp, drop, bend or twist. The colour finishing will not crack overtime.
Our gates are made of 100% aluminium using high-grade and state-of-the-art material. They do not require any special surface treatment before or after installing. They are resistant to the most extreme weather conditions.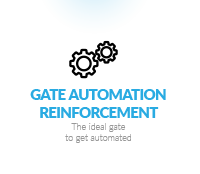 Your gate is designed from the beginning to accommodate automatic gate opener. A reinforced profile spanning the width allows for an easy and fast installation of an automation kit for a daily comfort.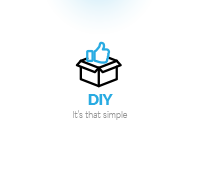 Our gates are provided with all the fixtures and fittings needed, you would not have thought that it would be that easy to install the gate. With help of our instruction manuals and videos you will find out how easy it is to install the gate yourself.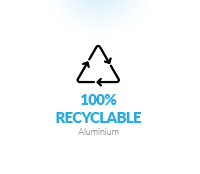 Mister Gates stands for sustainability, committed to an eco-friendly environment. All our gates are made of 100% recyclable aluminium, one of the most environmentally friendly processes across the metals industry and can be endlessly recycled while keeping its distinctive properties.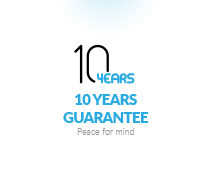 Our gates and fences are specially treated against rust and corrosion complying with a seaside resistant heatproof lacquering product certificate on QUALICOAT and QUALIMARINE. All our gates come with a standard 16 year manufacturer guarantee.
Product features of your sliding gate:
- 100 % recyclable aluminium gate
- Profiles assembled by tenons and mortises
- Reinforced 6mm profile to support gate automation
- Left or right opening available (street view)
- Standard or bespoke configuration available
- Vertical, horizontal or diagonal slat filling
- Extremely stable, will not warp, drop, bend or twist overtime
- Different standard and bespoke RAL colours available
- Seaside resistant heatproof lacquering product certification scheme
- Resistant to corrosion and rust
- QUALICOAT© label
- Factory ISO 9001 : 2008 certification
- Easy maintenance, we say ZERO maintenance
- For a maximum safety during transport, all our products are packed in foam and shrink wrapped
Delivery of your sliding gate will contain:
- 1 Aluminium leaf with opening to the left or right (from external view)
- 1 Door handle (interior / exterior)
- 1 Integrated single-point locking with 3 keys (European standard)
- 1 Close stop
- 2 Galvanised drive tracks
- 1 Reception stop
- 4 End caps
- 10 year manufacturer guarantee
Do you want your sliding gate automated?
Our team of experts has selected for you one of the best automatic gate driver systems available on the market, easy control and access.
Gate safety & access control equipment:
As soon as you have decided for an automation system, we propose different accessories to improve your access and protection to and of your property. Check out in the menu bar Automation, Access Control and Gate remotes.
Sliding gate automation Motostar Linestar:
- Incorporated electronic circuit board in the control panel.
- LED light integrated in circuit board for an easy diagnosis of the state of the electronics in your gate operator.
- Easy installation with 1 single cable up to 3 devices.
- Automatic slowdowns.
- Includes release hatch for manual opening in case of power failure.
- Support any sliding gate with a weight up to 400 Kg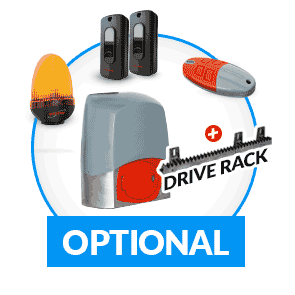 YOUR GATE AUTOMATION WILL INCLUDE:
- LINESTAR sliding gate automation system
- 1x CLICKSTAR remote control (4 channels)
- 1x pair of INFRASTAR photo safety cells (10m reach)
- LUMISTAR flashing light (inludes a wall fixing support)
- Battery for remote control and installation and user manual
+ 4-6m of drive rack (depending on gate size)
HAVE YOUR GATE DELIVERED DIRECTLY AT YOUR DOOR !
WATCH HOW TO INSTALL YOUR SLIDING GATE ! Product Downloads
Warranty
Warranty

16 years

Shipping
in

42

days
This product is guaranteed by the MISTER GATES DIRECT brand network for a period of 16 years subject to assembly and installation in accordance with the instructions for use and use under normal conditions
Features
- Material: 100% recyclable aluminium
- Vertical profile size (mm): 100 x 54 mm
- Horizontal profile size (mm): 90 x 36 mm
- Available standard height (in mm): 1600 - 1700 - 1800 aside pillars
- Available in standard width (in mm): 3000 - 3250 - 3500 - 3750 - 4000 - 4250 - 4500 - 4750 - 5000
- Different standard and bespoke RAL colours available
- Finishing: Plain boarded
- Style: Straight top with Alunox inserts and sandblasted double glass
- Weight of product: 68 - 120 Kg
- Manufacturer guarantee: 16 years
Recommended Products
The DETROIT aluminium sliding gate is suitable for both traditional and modern styles. This modern MisterGatesDirect gate also delivers interesting performance.
The access to a property must be closed by a gate. Note that gates and fences play a decisive role in securing the perimeter of a property - whether in the residential or professional sector. Furthermore, the difficulty of realising a gate installation depends on the model selected. The choice of gate model is therefore not insignificant. An improvised selection often leads to a complicated gate installation. This is because the system does not correspond to the conditions on the ground.
Our company specialises in aluminium joinery. We offer a wide range of products from gates to aluminium gates and fences. Our exterior joinery is renowned for its innovative design. The DETROIT sliding aluminium gate is the perfect reflection of this.
THE DETROIT MODEL, A DESIGN GATE WITH CONTEMPORARY FEATURES
This aluminium sliding gate kit includes a non-perforated leaf. There are no perforated areas on the panel. This design is suitable for privacy requirements. The non-perforated leaves play a perfect function as a visual breeze. Perforated or perforated areas on an aluminium sliding panel can reveal the interior of the property. This possibility has been eliminated with the RIGHT solid gate. The latter consists of wide slats. Note that the large dimensions make it possible to reduce the number of profiles. This choice made it possible to bring elegance and sobriety to the aesthetic characteristics of the leaf. This visual contributes to make the DETROIT a modern custom-made sliding gate.
Moreover, the blades of this custom-made gate are not arranged in the same way. Large vertical panels are located on the sides of the leaf. The central part has two columns of smaller horizontal slats. Each horizontal profile - six in number - is decorated with a rectangle and small squares. White and grey are the colours of these decorations.
Aluminium gates are often criticised for their more or less industrial design. Malleable metal can be less warm than noble materials such as wood. A wooden gate inspires a lot of authenticity. Achieving this effect with an aluminium swing gate or sliding panel is also possible. The cladding plays a decisive role in the aesthetics of the leaves. The profiles of the DETROIT aluminium sliding gate have been powder-coated with a high-quality coating. The quality of the powder coating of the door leaf is certified by the Qualicoat label.
CHOOSING A SUSTAINABLE GATE LIKE THE DETROIT
A wide range of materials is available for sliding gates. It should be noted that the longevity of the device depends on the properties of its characteristic elements. Sliding wooden gates, for example, have a limited service life. Wood - even when treated - remains fairly sensitive to moisture. The material is also susceptible to adverse weather conditions such as bad weather. This is also true for custom-made gates made of steel or wrought iron. Steel gates fear corrosion and rust.
PVC is also included in the choice of materials. However, a PVC gate is not suitable for areas where winds can be strong.
Installing a gate - with a lateral and sliding opening - made of aluminium is a long-term investment. The Qualicoat powder coating of the DETROIT does not only serve the aesthetics of the gate leaf. The treatment also plays a role in the longevity of the system. This unique gate is able to retain its appearance for more than a decade. Aluminium gates are not susceptible to corrosion or rust. Also, the recyclable aluminium profiles are unaffected by moisture. They require no maintenance to withstand adverse weather conditions.
SLIDING GATE OPERATOR INCLUDED IN THE DETROIT KIT
A motorised gate brings a lot of comfort. An electric gate offers remote control. Remote controls allow you to open the gate while remaining in your vehicle. Installing a gate automation system is one of the home automation solutions. However, finding the right gate motor for your gate leaf can sometimes be complicated. For this reason, our brand includes a compatible motorisation system in the DETROIT kit.
The gate motorisation proposed with the DETROIT is a Motostar kit. This includes a 24 V motor suitable for intensive use. This automatic opening and closing solution is suitable for domestic use. This Motostar motorisation has a compact shape which makes it easy to install. Note that this gate motor also offers partial opening for pedestrian crossings. With the DETROIT custom-built aluminium gate, the construction of a wicket gate is not necessary. In addition, a video intercom enhances the installation's home automation performance. This video intercom equipment is also Motostar equipment. The Livistar kit includes a 7-inch LCD screen that makes it easy to distinguish visitors. Also included is a stainless steel door station with IP54 protection.
It is necessary to choose the right gate. MisterGatesDirect thus offers a customisable design to satisfy all needs. Colour options are available for the DETROIT aluminium sliding gate. Please note that our catalogue does not include all existing colours. This automatic gate is also available in various sizes. Our sign offers the possibility to choose the dimensions of the sliding gate leaf to facilitate the installation of the gate.