Aluminium sliding driveway gate ANTILLES
Description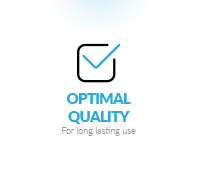 Mister Gates products are both robust and lightweight for everyday use by all members of your family. Your gate will not warp, drop, bend or twist. The colour finishing will not crack overtime.
Our gates are made of 100% aluminium using high-grade and state-of-the-art material. They do not require any special surface treatment before or after installing. They are resistant to the most extreme weather conditions.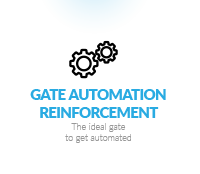 Your gate is designed from the beginning to accommodate automatic gate opener. A reinforced profile spanning the width allows for an easy and fast installation of an automation kit for a daily comfort.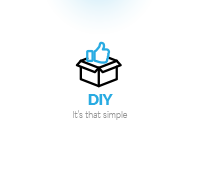 Our gates are provided with all the fixtures and fittings needed, you would not have thought that it would be that easy to install the gate. With help of our instruction manuals and videos you will find out how easy it is to install the gate yourself.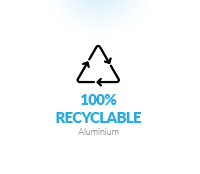 Mister Gates stands for sustainability, committed to an eco-friendly environment. All our gates are made of 100% recyclable aluminium, one of the most environmentally friendly processes across the metals industry and can be endlessly recycled while keeping its distinctive properties.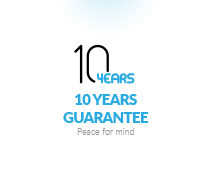 Our gates and fences are specially treated against rust and corrosion complying with a seaside resistant heatproof lacquering product certificate on QUALICOAT and QUALIMARINE. All our gates come with a standard 16 year manufacturer guarantee.
Product features of your sliding gate:
- 100 % recyclable aluminium gate
- Profiles assembled by tenons and mortises
- Reinforced 6mm profile to support gate automation
- Left or right opening available (street view)
- Standard or bespoke configuration available
- Vertical, horizontal or diagonal slat filling
- Extremely stable, will not warp, drop, bend or twist overtime
- Different standard and bespoke RAL colours available
- Seaside resistant heatproof lacquering product certification scheme
- Resistant to corrosion and rust
- QUALICOAT© label
- Factory ISO 9001 : 2008 certification
- Easy maintenance, we say ZERO maintenance
- For a maximum safety during transport, all our products are packed in foam and shrink wrapped
Delivery of your sliding gate will contain:
- 1 Aluminium leaf with opening to the left or right (from external view)
- 1 Door handle (interior / exterior)
- 1 Integrated single-point locking with 3 keys (European standard)
- 1 Close stop
- 2 Galvanised drive tracks
- 1 Reception stop
- 4 End caps
- 10 year manufacturer guarantee
Do you want your sliding gate automated?
Our team of experts has selected for you one of the best automatic gate driver systems available on the market, easy control and access.
Gate safety & access control equipment:
As soon as you have decided for an automation system, we propose different accessories to improve your access and protection to and of your property. Check out in the menu bar Automation, Access Control and Gate remotes.
Sliding gate automation Motostar Linestar:
- Incorporated electronic circuit board in the control panel.
- LED light integrated in circuit board for an easy diagnosis of the state of the electronics in your gate operator.
- Easy installation with 1 single cable up to 3 devices.
- Automatic slowdowns.
- Includes release hatch for manual opening in case of power failure.
- Support any sliding gate with a weight up to 400 Kg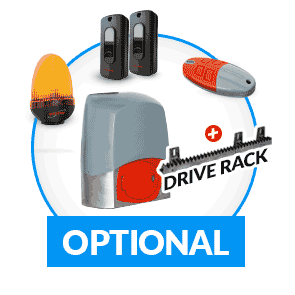 YOUR GATE AUTOMATION WILL INCLUDE:
- LINESTAR sliding gate automation system
- 1x CLICKSTAR remote control (4 channels)
- 1x pair of INFRASTAR photo safety cells (10m reach)
- LUMISTAR flashing light (inludes a wall fixing support)
- Battery for remote control and installation and user manual
+ 4-6m of drive rack (depending on gate size)
HAVE YOUR GATE DELIVERED DIRECTLY AT YOUR DOOR !
WATCH HOW TO INSTALL YOUR SLIDING GATE ! Product Downloads
Warranty
Warranty

16 years

Shipping
in

42

days
This product is guaranteed by the MISTER GATES DIRECT brand network for a period of 16 years subject to assembly and installation in accordance with the instructions for use and use under normal conditions
Features
- Material: 100% recyclable aluminium
- Vertical profile size (mm): 100 x 54 mm
- Horizontal profile size (mm): 90 x 36 mm
- Reinforced 6mm profile to accommodate gate automation
- Available standard height (in mm): 1600 - 1700 - 1800 aside pillars
- Available in standard width (in mm): 3000 - 3250 - 3500 - 3750 - 4000 - 4250 - 4500 - 4750 - 5000
- Different standard and bespoke RAL colours available
- Finishing: Plain boarded
- Style: Straight top
- Weight of product: 68 - 120 Kg
- Manufacturer guarantee: 16 years
Reviews
Excellent service

Top of the line product

This is Fantastic

At the start, I was little bit confused about buying this. but when I received my order I was super happy to see my order, the Quality was awesome , the design was fabulous
Recommended Products
Choosing your gate should not be an isolated event. If you are planning to equip your property with fencing, you should also think about a gate and a garage door to match it. Choosing a gate from among all the existing models can be complicated. To make it easier for you, you can group the gates in two: single-leaf or double-leaf swing and self-supporting or rail-mounted sliding gate. Sliding gates are the most aesthetically pleasing external joinery. MisterGatesDirect, an expert in joinery, offers you a wide range of sliding aluminium gates.
GOOD REASONS FOR CHOOSING A SLIDING GATE
A sliding gate is an opening that is operated from the side. There are two models in particular for this type of opening: the side-rail model and the self-supporting model. The guide rail allows smooth lateral manoeuvring, from left to right and reversible. Compared to swing gates, sliding gates can be installed even in conditions where space is limited. Thus, the installation of large gates is not a problem because the direction of opening is not considered even if your yard opens directly onto the public highway or if the terrain is sloping.
WHY OPT FOR AN ALUMINIUM SLIDING GATE?
What does the sliding aluminium gate have more than wooden, iron, steel or PVC gates? Installing an aluminium sliding gate is a guarantee of greater longevity and solidity, not to mention its design and contemporary look.
The aluminium sliding gate gives you unparalleled ease of use. With a manual gate, the operation is very easy due to the lighter weight of this material. Equipped with a sliding gate motorisation, comfort is at its peak.
Moreover, gate motorisation is also the prerogative of MistergatesDirect. Here you can find the motorisation system you need to set up a custom-made automatic aluminium gate.
Aluminium is a resistant material that is not subject to weathering or corrosion, and is also recyclable. Unlike an access closed by a wrought-iron gate or an iron gate, one closed by an aluminium gate or an aluminium wicket gate is not susceptible to rust or the salty environment. If you are looking for a modern gate combining elegance and efficiency, you should not hesitate to install an aluminium gate. Moreover, to change from ordinary white and grey, you can choose from an infinite number of colours with a powder-coated finish that does not fade over time. Whether you choose a solid or openwork gate, a slatted or barred gate or a profile gate, the aluminium sliding gate promises you the best possible finish.
SLIDING GATES AND AUTOMATIONS
A motorised gate is always better than a manual gate, whether it is a swing gate or a sliding structure. The sliding version has its own type of gate automation and therefore uses a specific gate motor. You can also find these at MisterGatesDirect. All you need to know is the compatibility of your sliding gate with the motorisation model you want. To do this, you need to take into account the total weight of the gate and, above all, the gate must slide perfectly on the rails and the castors must be perfectly oiled. Motorising your gate also means raising the security of your access to another level. You will be able to remove the lock and strike plate from the gate because it will be the motorisation that will ensure the closing, once the gate is motorised.
ORDER YOUR ALUMINIUM SLIDING GATE FROM MISTERGATESDIRECT
If you are planning to equip your outdoor access with a standard aluminium sliding gate or a custom-made aluminium sliding gate, take a look around the mistermenuiserie.com online shop and make your purchase in just a few clicks. You won't find any entry-level products there! If you are concerned about the aesthetics and safety of your openings, choose to equip yourself with very high quality joinery from our factories.
Whatever model of gate you want, you can find it on mistergatesdirect.com. The self-supporting electric gate is currently very popular with owners. However, you have a wide choice of products that can be customised as you wish. You can make any combination of shapes, colours and fillings (horizontal, vertical, fern) you wish to create a unique gate that best meets your requirements.
MisterGatesDirect thus provides you with very high quality products that comply with the current standards in force, and this, at reduced prices. You will find in our shops sliding aluminium gates such as the Antilles model. The latter benefits from motorised reinforcements integrated into its lower crosspiece. It is an aluminium sliding gate that is suitable for areas with high salinity and does not deform over time. It is easy to find a motorisation on a mister joinery, as it is also equipped with a reversible opening.
In direct partnership with the best joinery manufacturers, MisterGatesDirect offers you quality products at low prices. Don't hesitate to place your order and receive your sliding aluminium gate as soon as possible!