Aluminium sliding driveway gate ADRIATIQUE
Description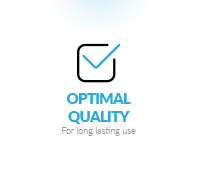 Mister Gates products are both robust and lightweight for everyday use by all members of your family. Your gate will not warp, drop, bend or twist. The colour finishing will not crack overtime.
Our gates are made of 100% aluminium using high-grade and state-of-the-art material. They do not require any special surface treatment before or after installing. They are resistant to the most extreme weather conditions.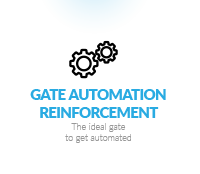 Your gate is designed from the beginning to accommodate automatic gate opener. A reinforced profile spanning the width allows for an easy and fast installation of an automation kit for a daily comfort.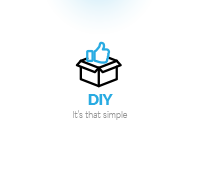 Our gates are provided with all the fixtures and fittings needed, you would not have thought that it would be that easy to install the gate. With help of our instruction manuals and videos you will find out how easy it is to install the gate yourself.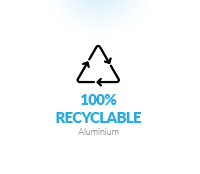 Mister Gates stands for sustainability, committed to an eco-friendly environment. All our gates are made of 100% recyclable aluminium, one of the most environmentally friendly processes across the metals industry and can be endlessly recycled while keeping its distinctive properties.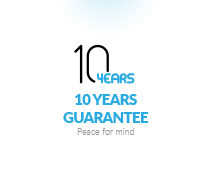 Our gates and fences are specially treated against rust and corrosion complying with a seaside resistant heatproof lacquering product certificate on QUALICOAT and QUALIMARINE. All our gates come with a standard 16 year manufacturer guarantee.
Product features of your sliding gate:
- 100 % recyclable aluminium gate
- Profiles assembled by tenons and mortises
- Reinforced 6mm profile to support gate automation
- Left or right opening available (street view)
- Standard or bespoke configuration available
- Vertical, horizontal or diagonal slat filling
- Extremely stable, will not warp, drop, bend or twist overtime
- Different standard and bespoke RAL colours available
- Seaside resistant heatproof lacquering product certification scheme
- Resistant to corrosion and rust
- QUALICOAT© label
- Factory ISO 9001 : 2008 certification
- Easy maintenance, we say ZERO maintenance
- For a maximum safety during transport, all our products are packed in foam and shrink wrapped
Delivery of your sliding gate will contain:
- 1 Aluminium leaf with opening to the left or right (from external view)
- 1 Door handle (interior / exterior)
- 1 Integrated single-point locking with 3 keys (European standard)
- 1 Close stop
- 2 Galvanised drive tracks
- 1 Reception stop
- 4 End caps
- 10 year manufacturer guarantee
Do you want your sliding gate automated?
Our team of experts has selected for you one of the best automatic gate driver systems available on the market, easy control and access.
Gate safety & access control equipment:
As soon as you have decided for an automation system, we propose different accessories to improve your access and protection to and of your property. Check out in the menu bar Automation, Access Control and Gate remotes.
Sliding gate automation Motostar Linestar:
- Incorporated electronic circuit board in the control panel.
- LED light integrated in circuit board for an easy diagnosis of the state of the electronics in your gate operator.
- Easy installation with 1 single cable up to 3 devices.
- Automatic slowdowns.
- Includes release hatch for manual opening in case of power failure.
- Support any sliding gate with a weight up to 400 Kg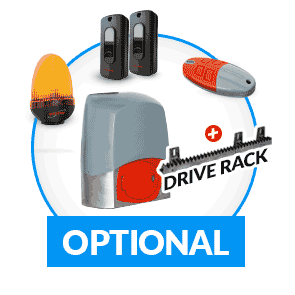 YOUR GATE AUTOMATION WILL INCLUDE:
- LINESTAR sliding gate automation system
- 1x CLICKSTAR remote control (4 channels)
- 1x pair of INFRASTAR photo safety cells (10m reach)
- LUMISTAR flashing light (inludes a wall fixing support)
- Battery for remote control and installation and user manual
+ 4-6m of drive rack (depending on gate size)
HAVE YOUR GATE DELIVERED DIRECTLY AT YOUR DOOR !
WATCH HOW TO INSTALL YOUR SLIDING GATE ! Product Downloads
Warranty
Warranty

16 years

Shipping
in

42

days
This product is guaranteed by the MISTER GATES DIRECT brand network for a period of 16 years subject to assembly and installation in accordance with the instructions for use and use under normal conditions
Features
- Material: 100% recyclable aluminium
- Vertical profile size (mm): 100 x 54 mm
- Horizontal profile size (mm): 90 x 36 mm
- Available standard height (in mm): 1600 - 1700 - 1800 aside pillars
- Available in standard width (in mm): 3000 - 3250 - 3500 - 3750 - 4000 - 4250 - 4500 - 4750 - 5000
- Different standard and bespoke RAL colours available
- Finishing: Plain boarded
- Style: Curved top
- Weight of product: 68 - 120 Kg
- Manufacturer guarantee: 16 years
Reviews
Great buy

Excellent customer service, always here to help. Price was great and we got delivered in very good conditions (with a bit of delay)


great company

I love this company , they have delivered my order with great care.

Best Experience

Excellent service, fast responses, product delivered as expected. Easy to install with beautiful coverage. Thank you


Best Experience

Thank you Mister Gates for these beautiful gates. Safe and easy to install.

Quality Product

Brilliant experience.Excellent service. I will buy again
Recommended Products
Do you want to make some renovations to the entrance of your property? Why not install an aluminium sliding gate. This will guarantee you a lot of comfort on a daily basis. On mistergatesdirect.com, you will find several ranges of this product.
AN ALUMINIUM SLIDING GATE TO MAKE YOUR LIFE EASIER
The main advantage of a sliding gate is that it does not need a lot of space. Since it opens along the wall, there is no need for special devices inside your yard. Apart from that, it can also be adapted to a slightly sloping entrance. In fact, this type of gate will always work properly even if you install it on a sloping ground.
Next comes the choice of material. Using an aluminium gate does not mean that your entrance will be easy for thieves to enter. On the contrary, it will be immensely sturdy and thieves will be discouraged as quickly as possible. What's more, you will have the opportunity to motorize it for greater comfort. No need to explain that you can leave the house quietly without worrying about the security of the house with this type of gate.
From an aesthetic point of view, an aluminium gate is always of superior beauty. Yes, it gives a taste that is different from others and attracts the attention of passers-by.
OPT FOR THE ADRIATIC ALUMINIUM SLIDING GATE
Since its creation, EMALU has always offered high quality products to its customers. In 2008, these efforts resulted in obtaining the customer satisfaction guarantee in accordance with ISO 9001. And with this cop-adriatic-sliding model, the company has struck again. Equipped with a hook lock with an integrated anti-lifting tip. This model is completely tamper-proof. Designed with recyclable aluminium, you'll have a gate that can stand up to rust and corrosion. Add to this its ability to fit into high salinity areas.
In addition to being assembled using mortise and tenon joints, this equipment will show no signs of deformation over time and will retain its splendour as it did on the first day. Apart from the accessories that go with it, note that this model can also accommodate a 6 mm motorisation reinforcement along the length of the lower crossbar.
Easy to maintain, you won't need to do this every day. As for its design, the brand has opted for a vertical filling as well as thermo-lacquering certified by the QUALICOAT label, which aims to guarantee the quality of joinery for outdoor use. Add to this the possibility of choosing between several colours as well as foam and film packaging.
Please also note that the fan can weigh from 73 kg to 120 kg. Suitable for a MOTOSTAR motorisation, your gate will be equipped with a 24 V motor whose connection will be facilitated by a 3-core cable. In addition to self-diagnosis, the controls will not respond in the event of obstacles. And in case of unblocking, you can always open it manually.
But that's not all, because this gate model would also go well with a 7-inch MOTORSTAR video phone. With its door station in brushed stainless steel, it can be easily integrated into your entrance area, regardless of the mounting bracket. In addition, you can choose between a master or slave function as well as a response and situation setting.
Finally, you will have 8 buttons for intercommunication. For the hearing impaired, they can always use the magnetic loop.
MISTERGATESDIRECT.COM: THE RIGHT PLACE TO ORDER AN ALUMINIUM SLIDING GATE
On mistergatesdirect.com you could have this gate complete with motorisation and videophone at a really generous price. What's more, a payment facility is available if you have a tight budget.
After delivery, you will have a gate kit containing 1 aluminium leaf, 1 interior and exterior handle, 1 reception strike, 2 galvanised steel rails to be screwed on, 1 guide post, 1 point lock with European cylinder and 3 keys. In addition, 1 end stop, 2 wheels, 1 motorised reinforcement and 4 locking end pieces.
As for the motorisation, you will receive 1 gear motor, 1 control box, 1 radio card, 1 set of photocells, 1 remote control, 1 flashing light and a flashing light holder. This is combined with 1 rack of 4 to 6 metres depending on the width of the gate and 1 set of operating and maintenance instructions.
Finally, your videophone will be formed by 1 LIVIMn video station with 1 7-inch LCD screen, 1 power supply and 1 LIVIPl external door station with a protection class of 54.
For more information, please contact our customer service team. On mistergatesdirect.com, buy your aluminium gate in complete confidence.