Description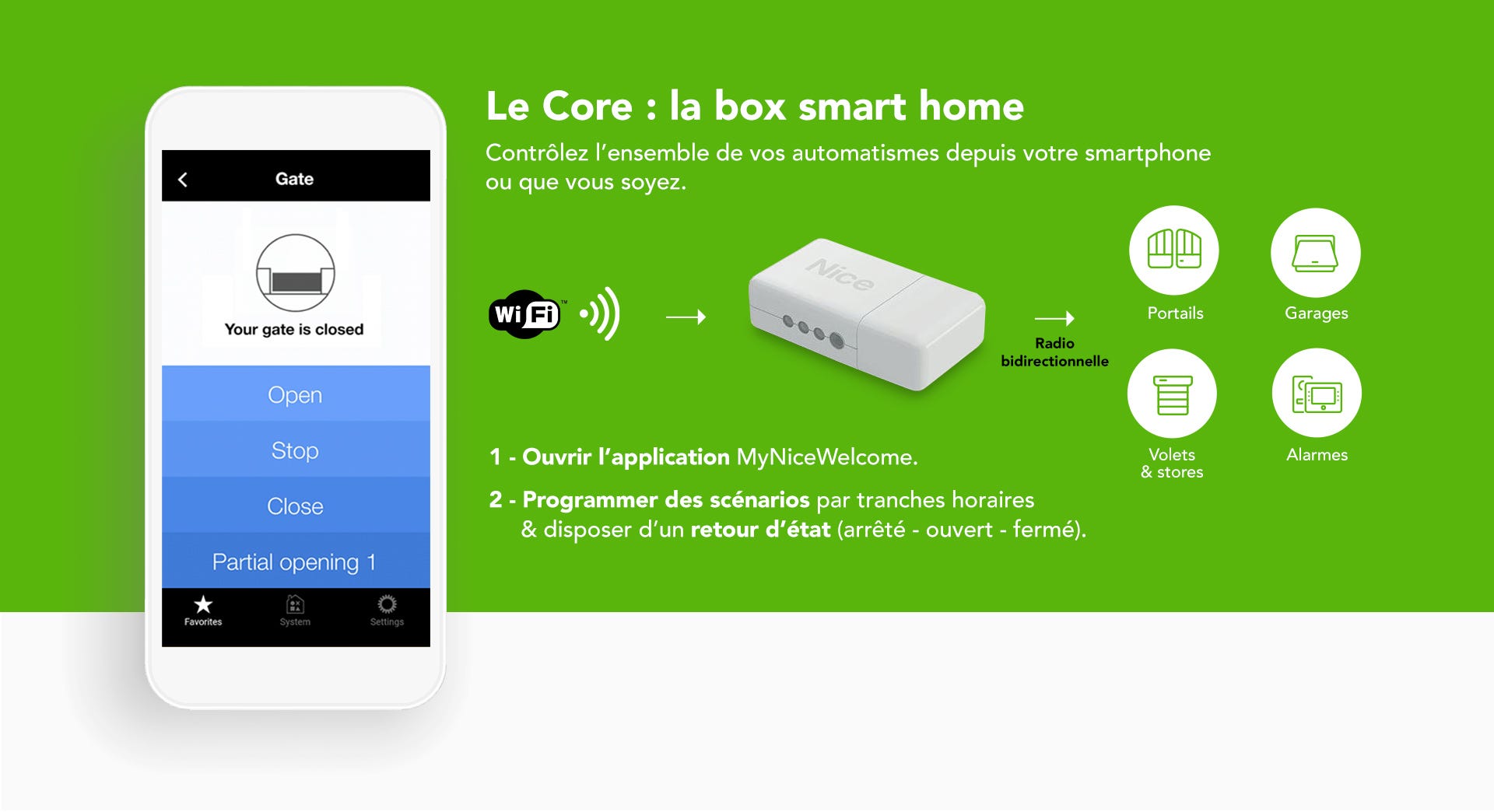 Downloads
Warranty
Warranty

30 month

Shipping
in

3

days
This product is guaranteed by the NICE brand network for a period of 30 months subject to assembly and installation in accordance with the instructions for use and use under normal conditions
Features
- Power supply : 230 Volts
- Back-up power supply : 24 Volts
- Maximum absorption : 1.1 A
- Power : 250 Watts
- Speed : 0.34m/s
- Torque : 400 Nm
- Work cycle : max. 35/h
- Level protection : IP44
- Dimensions : 330 x 95 x 277 mm
Recommended Products
More practical and user friendly than a traditional gate, the automated gate is no longer an accessory but a necessity. An equipment that brings you daily comfort, a sliding gate automation is an installation that can be adapted to any type of house. Whether it is a new property or a house under renovation, this model of gate can give a new design of the entrance of your house. On our website, the NICE ROBUS 400 sliding gate automation is available with accessories at a very special price. This is a high-quality product that will last for years!
How to choose a sliding gate automation?
We all agree that getting out of the car to open or close the gate is simply annoying. Moreover, as the weather is unpredictable, it doesn't help at all. It is also safer for people who come home late because of their work. Consequently, the ideal solution seems to be the installation of a sliding gate automation.
There are two types of sliding gate automation: the self-supporting system and the floor rail system. The first option is, in general, taken by large factories and companies for professional use as they use their gates quite often. With this kind of automation, there is no risk of damaging the gate rail (it is not equipped with a rail). However, with the development of this model of automation, individuals are starting to use the self-supporting system on their own gates. What is practical with this device is that it is not necessary to install a rail on the ground. For the second option, the automation with a ground rail system, it is the most popular among individuals. For its installation, masonry work is necessary, as you need to fix the rail to the ground and also to block the guide and reception post. It is also suitable for heavy gates. Since it is guided on a rail, the structure of your gate will not deform even with intensive use.
ZOOM ON THE AUTOMATION SLIDING GATE NICE ROBUS 400 WITH ACCESSORIES
Are you looking for a user-friendly and quality automation of your gate? If so, please visit our website www.mistergatesdirect.com and order the NICE ROBUS 400 sliding gate automation, which comes with all the accessories you need to operate it. The main power supply for this operator is 230 volts and its back-up power supply is 24 volts. With a power of 250 watts, it approaches a maximum intensity of 1.1 A with a speed of 0.34m/s. This pack contains an irreversible electromechanical operator with a control unit and a plug-in receiver. There is also the flashing light with integrated antenna as well as the pair of photocells, without forgetting the mechanical limit switches and the emergency battery in case of power failure.
Visit Mistergatesdirect and choose the NICE ROBUS 400 sliding gate automation with accessories without hesitation, and on top of that, it is available at a very good price. In addition to the competitive price, it comes with a 30-month warranty, just for your satisfaction. Don't wait any longer to place your order and enjoy the convenience and comfort of this equipment. Before making your purchase, you can ask for more information from our advisers at Mistergatesdirect. Please also note that our products are delivered within a very short time.