Aluminium double swing driveway gate TURIN - Integrated motor
Description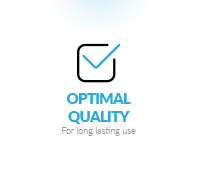 The EMALU products are both robust and lightweight for everyday use. Your gate will not warp, drop, bend or twist. The aluminium treatment and colour finish complies with the latest quality standards. Despite the fact your gate is out all year, it will not suffer from changing weather conditions.
The EMALU gates are made of 100% aluminium using high-grade and state-of-the-art materials. Your aluminium driveway or pedestrian gate by will not require any special surface treatment before or after installing. All EMALU productds are very resistant to saline environments and will not crack overtime.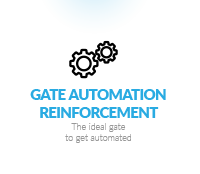 Your EMALU gate is designed from the beginning to accommodate a gate automation. A prefabricated reinforced profile spanning the width will make it much easier to install an electric opener for your driveway or pedestrian gate. At Mister Gates Direct we look for innovative solutions with the objectif to improve your daily comfort.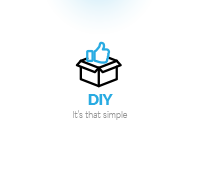 EMALU gates are provided with all the fixtures and fittings needed, you would not have thought that it would be that easy to install the gate. With help of our handy instruction manuals and videos you will find out how easy it is to install the driveway and / or pedestrian gate yourself.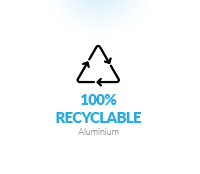 EMALU stands for sustainability. All our gates are made of 100% recyclable aluminium and are reusable in an eco-friendly environment. For the cleaning, no need of aggressive detergents, just wash with a warm soapy water and a sponge, rinsing with clear water.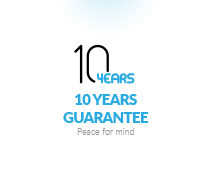 EMALU gates are specially treated against rust and corrosion complying with a seaside resistant heatproof lacquering. All our aluminium gates come with a 10-year guarantee. Our team remain at your entire disposal, also after you have purchased one of our products.
HAVE YOUR GATE DELIVERED DIRECTLY AT YOUR DOOR !
.
Product Downloads
Warranty
Warranty

16 years

Shipping
in

42

days
This product is guaranteed by the MISTER GATES DIRECT brand network for a period of 16 years subject to assembly and installation in accordance with the instructions for use and use under normal conditions
Features
- Width (mm): from 2500 mm to 3500 mm
- Height (mm): 1034, 1234, 1434 or 1634 mm
- Installation clearances: 48 mm (20 mm on each hinge + 8 mm central)
- Vertical uprights: 110 x 70 mm
- Horizontal crossbeams: 100 x 60 mm
- Material: Aluminium
Recommended Products
Robust and efficient, an aluminium gate with an integrated operator will not disappoint you no matter what the conditions of use. If you want one, simply go to mistermenuiserie.com where you'll just have to choose the model that suits you best.
AN ALUMINIUM GATE HAS MANY STRONG POINTS

Whether it is a swinging or sliding model, an aluminium gate will always provide you with considerable advantages. In addition to its lightness, you will benefit from a robust installation with a high level of resistance. Indeed, you will have nothing to fear from physical and thermal shocks with an aluminium gate. This advantage will be offered to you even if you do not maintain the equipment on a regular basis. Apart from that, this type of gate also has a wide design style, so you will only have to choose the model that will best fit your property. All you have to do is choose the shape and design that suits you best. You could even choose the colour you think is ideal for your entrance. As far as size is concerned, don't forget that you can choose a custom-made model if the standard dimensions don't suit you. In this case, make sure you don't take the wrong size to avoid problems.
ALUMINIUM GATE WITH INTEGRATED OPERATOR: THE ADVANTAGES

The motorisation of this type of gate can be powered by a 220 V current in the majority of cases, and is integrated with each leaf at the time of purchase. With the installation of the mechanism on the vertical uprights of the leaves, you should have no difficulty in fixing and connecting the gate. In fact, you will not need any masonry work to install your aluminium gate. What's more, you will have a perfectly discreet mechanism at your disposal. No one will notice the presence of the motor on the gate. What's more, this avoids detracting from the aesthetics of the equipment.
In terms of operation, you can be sure that your gate will offer you a high level of comfort. This is due to the fact that you will not have to be content with simply pressing the control button to control the closing of the mechanism. In other words, it is perfectly possible to choose a model with sensor closure. This means that the gate will close on its own after the car has driven past. In any case, you will not have to get out of the car to open and close the gate. This will benefit you during rainy periods.
It should be noted that an integrated motorisation does not deteriorate easily. It will even guarantee you a long service life while avoiding maintenance at all times. As a result, changes of season will have no adverse effect on the performance of your aluminium gate. It can be said that this type of mechanism is not the type to break down at the slightest change in condition.
In terms of security, please understand that no one will be able to vandalize the mechanism since it is perfectly protected by other elements. It is perfectly valid whether you install the operator on a sliding or swinging aluminium gate.
QUICKLY ORDER YOUR ALUMINIUM GATE WITH INTEGRATED OPERATOR ON MISTERGATESDIRECT.COM

First of all, you should know that mistergatesdirect.com is a highly secure site. This means that you won't run the risk of being scammed by hackers. Add to that, you could have an aluminium gate with an integrated motorization at a reasonable price. Moreover, you could easily compare the quality-price ratio of the model you choose. As far as payment is concerned, you can ask for a payment facility if you ever have trouble collecting the full amount when you place the order. This will then allow you to pay for your gate several times without paying any additional fees. A fast delivery will be offered to you after validation of the purchase. By purchasing a gate with a warranty, you will only have to ask for after-sales service if there is a problem with the installation. Need more information on a specific model? Simply contact our customer service team.