Aluminium double swing driveway gate MILAN - Integrated motor
Description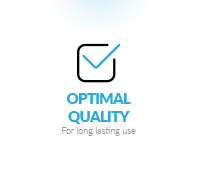 The EMALU products are both robust and lightweight for everyday use. Your gate will not warp, drop, bend or twist. The aluminium treatment and colour finish complies with the latest quality standards. Despite the fact your gate is out all year, it will not suffer from changing weather conditions.
The EMALU gates are made of 100% aluminium using high-grade and state-of-the-art materials. Your aluminium driveway or pedestrian gate by will not require any special surface treatment before or after installing. All EMALU productds are very resistant to saline environments and will not crack overtime.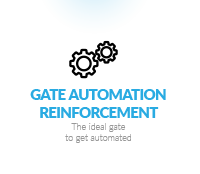 Your EMALU gate is designed from the beginning to accommodate a gate automation. A prefabricated reinforced profile spanning the width will make it much easier to install an electric opener for your driveway or pedestrian gate. At Mister Gates Direct we look for innovative solutions with the objectif to improve your daily comfort.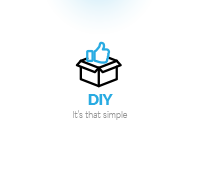 EMALU gates are provided with all the fixtures and fittings needed, you would not have thought that it would be that easy to install the gate. With help of our handy instruction manuals and videos you will find out how easy it is to install the driveway and / or pedestrian gate yourself.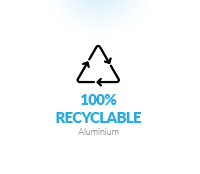 EMALU stands for sustainability. All our gates are made of 100% recyclable aluminium and are reusable in an eco-friendly environment. For the cleaning, no need of aggressive detergents, just wash with a warm soapy water and a sponge, rinsing with clear water.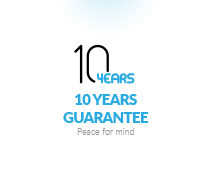 EMALU gates are specially treated against rust and corrosion complying with a seaside resistant heatproof lacquering. All our aluminium gates come with a 10-year guarantee. Our team remain at your entire disposal, also after you have purchased one of our products.
HAVE YOUR GATE DELIVERED DIRECTLY AT YOUR DOOR !
.
Product Downloads
Warranty
Warranty

16 years

Shipping
in

42

days
This product is guaranteed by the MISTER GATES DIRECT brand network for a period of 16 years subject to assembly and installation in accordance with the instructions for use and use under normal conditions
Features
- Width (mm): from 2500 mm to 3500 mm
- Height (mm): 1034, 1234, 1434 or 1634 mm
- Installation clearances: 48 mm (20 mm on each hinge + 8 mm central)
- Vertical uprights: 110 x 70 mm
- Horizontal crossbeams: 100 x 60 mm
- Material: Aluminium
Recommended Products
Finding the right motor for a double-leaf gate is often complicated. A less demanding alternative is to opt for an aluminium gate with an integrated motor.
In terms of the gate, the choice of materials includes wood, PVC, steel and aluminium. The latter probably has the fewest defects. The weight of a gate is important for several reasons. A heavy gate leaf can be difficult to handle or move, especially for the drive system. Aluminium is light, and gates - made from this material - are easy to handle.
The lightness of an aluminium gate does not mean that it is not durable, quite the contrary. A leaf made of this material has considerable durability. It is able to withstand even the most difficult weather conditions. This metal element is not susceptible to moisture, let alone corrosion. Unlike a forged steel gate, for example, the aluminium leaf will not show signs of rust or cracks due to wear. Therefore, an aluminium gate with integrated motorisation is ideal for damp areas. On the other hand, aluminium is very easy to clean and maintain. A gate leaf made of this material does not require a protective coating. However, it is possible to paint it for purely aesthetic reasons.
For a robust, durable and maintenance-free gate, an aluminium gate leaf is the most cost-effective solution.
WHY MOTORISE YOUR ALUMINIUM GATE ?

Motorising your gate is a necessity in order to make everyday life easier. There are many advantages to this solution, particularly in terms of safety. The motor has a blocking system acting as a locking system. This option makes it impossible to force the gate to open from the outside. However, this can be done from the inside using an ignition key. The presence of a motorisation system thus reinforces the security of access to the property.
Still on the subject of security, the motor often offers a remote control option. The movement of the aluminium gate with integrated motorisation is operated by remote control. The accessory allows you to remain in the passenger compartment of your vehicle to control the opening of the gate. This considerably reduces the risk of carjacking. Not having a remote control forces you to leave the vehicle to open or close the gate in case of bad weather. For the sake of comfort, the installation of a motorisation solution is recommended.
An aluminium gate with integrated motorisation is not necessarily a sliding leaf. It is also possible to equip one or two leaf panels with a motorisation system. Certain site conditions make it impossible to install a sliding gate. As the length of the access - especially the space between the two posts - is greater than the length of the fence, the installation of a sliding gate is not possible. This is also true insofar as the ground is not suitable for the installation of a guide rail.
To be precise, the motors for a sliding leaf and those for a swing gate do not use the same mechanical system. As a result, a motorisation system designed for a swing leaf cannot be used for a sliding leaf.
ADVANTAGES OF AN ALUMINIUM GATE WITH INTEGRATED MOTORISATION

Installing a gate motorisation system is a project that cannot be improvised. As long as the installed model has not been selected correctly, unpleasant surprises are to be feared. A leaf may have a weight that is not adapted to the power of the motor. Each time the panel(s) move(s), the motorisation is heavily solicited, which can cause premature wear and tear or damage. Without any checks, the motorisation system purchased may not be suitable for the gate - particularly on the fixing points.
An aluminium gate with integrated operator is a kit consisting of a gate and an operator solution. In the design of its offers, the supplier selects the appropriate automations according to the characteristics of its leaves. This formula avoids having to search for a motorisation solution after the acquisition of a two-leaf gate. Motorising this type of gate requires a special installation. Each panel must have a motor unit. The unit then uses a receiver for remote control.