Aluminium double swing driveway gates MELVILLE - Integrated motors
Description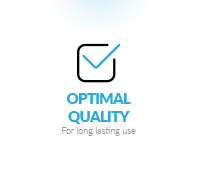 The products are both robust and lightweight for everyday use. Your gate will not warp, drop, bend or twist. The aluminium treatment and colour finish complies with the latest quality standards. Despite the fact your gate is out all year, it will not suffer from changing weather conditions.
Our gates are made of 100% aluminium using high-grade and state-of-the-art materials. Your aluminium driveway or garden gate will not require any special surface treatment before or after installing. All our productds are very resistant to saline environments and will not crack overtime.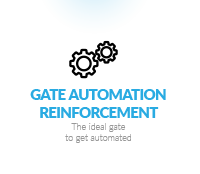 Your gate is designed from the beginning to accommodate a gate automation. A prefabricated reinforced profile spanning the width will make it much easier to install an electric opener for your driveway or garden gate. At Mister Gates Direct we look for innovative solutions with the objectif to improve your daily comfort.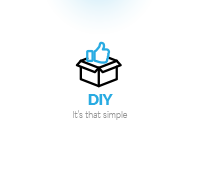 Our gates are provided with all the fixtures and fittings needed, you would not have thought that it would be that easy to install the gate. With help of our handy instruction manuals and videos you will find out how easy it is to install the driveway and / or pedestrian gate yourself.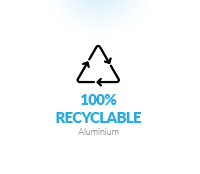 Mister Gates Direct stands for sustainability. All our gates are made of 100% recyclable aluminium and are reusable in an eco-friendly environment. For the cleaning, no need of aggressive detergents, just wash with a warm soapy water and a sponge, rinsing with clear water.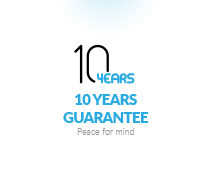 Our gates are specially treated against rust and corrosion complying with a seaside resistant heatproof lacquering. All our aluminium gates come with a 16-year guarantee. Our team remain at your entire disposal, also after you have purchased one of our products.
HAVE YOUR GATE DELIVERED DIRECTLY AT YOUR DOOR !
.
Product Downloads
Warranty
Warranty

16 years

Shipping
in

42

days
This product is guaranteed by the MISTER GATES DIRECT brand network for a period of 16 years subject to assembly and installation in accordance with the instructions for use and use under normal conditions
Features
- Width (mm): from 2500 mm to 3500 mm
- Height (mm): from 1000 mm to 1700 mm
- Installation clearances: 48 mm (20 mm on each hinge + 8 mm central)
- Vertical uprights: 110 x 70 mm
- Horizontal crossbeams: 100 x 60 mm
- Material: Aluminium
Reviews
Top product

Very ergonomic product. Opening is quick and quality of the aluminium is very good.

Brilliant experience

Excellent service, fast responses, product delivered as expected. Have bought items multiple times and very happy with the services. Communications are exceptional.
Recommended Products
Your current gate seems to be showing its limits? In that case, we recommend that you choose an aluminium gate with an integrated operator. Simply go to mistermenuiserie.com to choose the model that you feel suits your needs and expectations.
WHY CHOOSE AN ALUMINIUM GATE?

Known for its relatively low weight, an aluminium gate has other advantages that you can enjoy on a daily basis. You can rest assured that you will have an installation that is both sturdy and resistant. Indeed, your gate will be able to withstand all physical and thermal shocks while guaranteeing a long service life. You won't even see a single trace of rust or corrosion on the equipment. Note that an aluminum gate requires no regular maintenance to offer you the same performance. When it comes to design, don't forget that you can choose the gate shape that best suits your needs. This also applies to the design and colour. The goal is to offer you a model that will not ruin the image of your property. It should not be forgotten that an aluminium gate can be displayed under a swinging or sliding model. Don't forget that you may request a custom-made model in case the standard dimensions do not fit your opening. In addition, you should have no trouble motorising it. In fact, you are sure to have many more advantages by opting for an aluminium gate with an integrated operator.
THE ALUMINIUM GATE WITH INTEGRATED OPERATOR IN DETAIL

Usually, an aluminium gate with an integrated motor will guarantee you many advantages, starting with its 220-volt power supply. Note first of all that this choice will save you from buying a new motorisation as it is already fixed to the amount of each leaf. In addition, the mechanism motor will be protected by the other gate accessories. This will also make it easy to install the operator. In addition, you will have a completely discreet accessory at your disposal. It should be noted that an aluminium gate with an integrated operator can be presented in swing or sliding mode. This leaves you a wide choice for the model you want to install.
On the other hand, you should be aware that an integrated system can work automatically if you opt for an auto-detection model. In this way, the gate will close by itself after the last vehicle has passed. Alternatively, you could always install a gate that can be fully controlled with a remote control. The most important thing is that you do not have to push a leaf every time you open and close your gate. All you need to do is install the gate correctly and connect the motorisation to take full advantage of its performance. You can be sure that the mechanism will work, always efficiently, no matter what the season. What's more, you can stay quietly in the car during cold and rainy periods. Comfort is then guaranteed with an aluminum gate with integrated motorization.
THE ADVANTAGES OF ORDERING YOUR ALUMINIUM GATE ON MISTERGATESDIRECT.COM

Recognised as a specialist in its field, mistergatesdirect.com will offer you an aluminium gate with a high-performance and reliable integrated motorisation. In fact, a model bought on mistergatesdirect.com generally offers a better quality/price ratio. Please note that every purchase you make will be highly secure. In other words, you have nothing to fear from pirates. Every model you find there will also be offered to you at a reasonable price. You could even ask for a payment facility if you don't have the full amount when you place your order. You will then have several deadlines to pay for your portal. Please understand that delivery will take place within a short time after your order has been confirmed. This will save you long waiting times. Don't forget that you will be able to request after-sales service if you encounter a problem while using the gate. No problems generally occur on a portal offered by mistergatesdirect.com. Finally, you can contact our customer service team at any time if you need more information about a specific model. Don't wait any longer to order your aluminium gate.