Aluminium double swing driveway gate ALASKA - Integrated motor
Description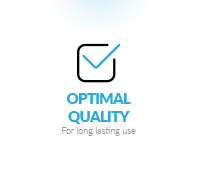 The EMALU products are both robust and lightweight for everyday use. Your gate will not warp, drop, bend or twist. The aluminium treatment and colour finish complies with the latest quality standards. Despite the fact your gate is out all year, it will not suffer from changing weather conditions.
The EMALU gates are made of 100% aluminium using high-grade and state-of-the-art materials. Your aluminium driveway or pedestrian gate by will not require any special surface treatment before or after installing. All EMALU productds are very resistant to saline environments and will not crack overtime.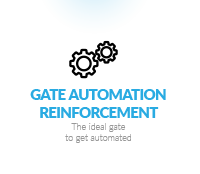 Your EMALU gate is designed from the beginning to accommodate a gate automation. A prefabricated reinforced profile spanning the width will make it much easier to install an electric opener for your driveway or pedestrian gate. At Mister Gates Direct we look for innovative solutions with the objectif to improve your daily comfort.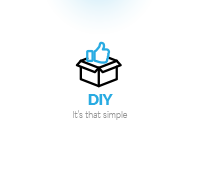 EMALU gates are provided with all the fixtures and fittings needed, you would not have thought that it would be that easy to install the gate. With help of our handy instruction manuals and videos you will find out how easy it is to install the driveway and / or pedestrian gate yourself.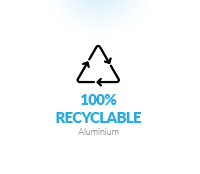 EMALU stands for sustainability. All our gates are made of 100% recyclable aluminium and are reusable in an eco-friendly environment. For the cleaning, no need of aggressive detergents, just wash with a warm soapy water and a sponge, rinsing with clear water.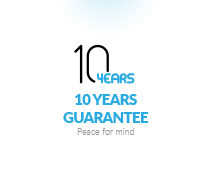 EMALU gates are specially treated against rust and corrosion complying with a seaside resistant heatproof lacquering. All our aluminium gates come with a 10-year guarantee. Our team remain at your entire disposal, also after you have purchased one of our products.
HAVE YOUR GATE DELIVERED DIRECTLY AT YOUR DOOR !
.
Product Downloads
Warranty
Warranty

16 years

Shipping
in

42

days
This product is guaranteed by the MISTER GATES DIRECT brand network for a period of 16 years subject to assembly and installation in accordance with the instructions for use and use under normal conditions
Features
- Width (mm): from 2500 mm to 3500 mm
- Height (mm): 1034, 1234, 1434 or 1634 mm
- Installation clearances: 48 mm (20 mm on each hinge + 8 mm central)
- Vertical uprights: 110 x 70 mm
- Horizontal crossbeams: 100 x 60 mm
- Material: Aluminium
Recommended Products
The gate ensures access and security of the property. And as it is the first to welcome our visitors, it is essential that it is aesthetically pleasing. You should therefore think carefully before choosing a gate. A wide range of aluminium two-leaf gates awaits you at Mistergatesdirect.com. Enjoy quality at the best price in our shops.
WHAT ARE THE ADVANTAGES OF OPTING FOR AN ALUMINIUM SWING GATE?
Compared to a sliding gate, a swing gate offers some interesting advantages. For a start, its price is really more affordable. What's more, a swinging opening makes it exceptionally easy to install. Moreover, you can do the installation yourself, however, to enjoy a better result, it makes more sense to use the services of professionals. You can also equip the swing gate with a motorisation if you wish to optimise its operation for greater comfort and safety.
As far as the material is concerned, you won't have any regrets about opting for aluminium. Indeed, an aluminium gate is aesthetically pleasing and modern, available in many models. What's more, it is robust and resistant. This material can withstand all kinds of weather, does not rust and has a long service life. Above all, you do not need to carry out regular maintenance work.
WHY CHOOSE AN ALUMINIUM SWING GATE WITH INTEGRATED OPERATOR?
An automatic gate offers a number of advantages. It starts with optimising comfort. It is no longer necessary to push the gate to open or close it - a single press on the remote control box is all that is needed. This operation also increases safety. Firstly that of the property, since only the remote control can control the gate, and secondly that of the owner. Imagine coming home late or in the rain, you will no longer have to get out of your car to push the gate.
For the integrated motorization, you should know that it is directly installed in the vertical posts of the gate leaves. The motor is therefore not separable with the gate. Nevertheless, this type of automation for swing gates will offer you many advantages. It is efficient and discreet. If you do not like visible motors that affect the aesthetics of your gate, the integrated motorisation is the ideal choice. Similarly, if your entrance does not have enough space for conventional swing gate operators, the integrated operator is the solution. But remember, it is not suitable for existing gates.
FIND AT MISTERGATESDIRECT.COM QUALITY ALUMINIUM 2-LEAF GATES WITH INTEGRATED MOTORIZATION
If you are looking for an aluminium 2-wing gate with integrated motor of excellent quality at the best price, we invite you to visit mistergatesdirect.com. We have standard and custom-made gates. A wide choice of models and shapes of 2-wing gates are also available: solid gates, openwork gates, semi-openwork gates, gendarme hat gates, convex gates, concave gates, straight gates. You also have a wide choice of colours: white, grey, anthracite grey, etc. All these gates have been designed by qualified and experienced aluminium joinery professionals. In addition, all our products have the Qualicoat label certifying their high quality as thermolacquered aluminium joinery. When you buy a swing gate with integrated motor from Mister Gates Direct, you can benefit from a 16-year guarantee. Finally, our prices and services defy all competition, so there are no more reasons to hesitate!