Aluminium double swing driveway gates ORLEANS
Description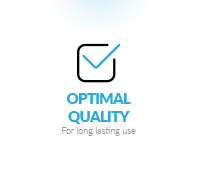 The products are both robust and lightweight for everyday use. Your gate will not warp, drop, bend or twist. The aluminium treatment and colour finish complies with the latest quality standards. Despite the fact your gate is out all year, it will not suffer from changing weather conditions.
Our gates are made of 100% aluminium using high-grade and state-of-the-art materials. Your aluminium driveway or garden gate will not require any special surface treatment before or after installing. All our productds are very resistant to saline environments and will not crack overtime.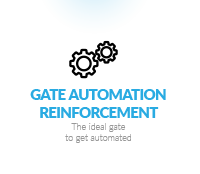 Your gate is designed from the beginning to accommodate a gate automation. A prefabricated reinforced profile spanning the width will make it much easier to install an electric opener for your driveway or garden gate. At Mister Gates Direct we look for innovative solutions with the objectif to improve your daily comfort.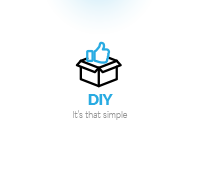 Our gates are provided with all the fixtures and fittings needed, you would not have thought that it would be that easy to install the gate. With help of our handy instruction manuals and videos you will find out how easy it is to install the driveway and / or pedestrian gate yourself.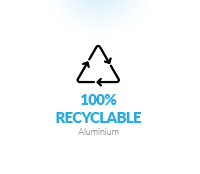 Mister Gates Direct stands for sustainability. All our gates are made of 100% recyclable aluminium and are reusable in an eco-friendly environment. For the cleaning, no need of aggressive detergents, just wash with a warm soapy water and a sponge, rinsing with clear water.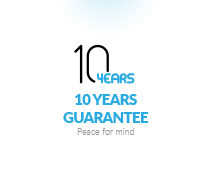 Our gates are specially treated against rust and corrosion complying with a seaside resistant heatproof lacquering. All our aluminium gates come with a 16-year guarantee. Our team remain at your entire disposal, also after you have purchased one of our products.
Product features of your dual swing gate:
- 100 % recyclable aluminium
- Assembled by tenons and mortises
- Resistant to corrosion and rust
- Extremely stable, will not warp, drop, bend or twist overtime
- Suitable for highly saline environments
- Available in several standard and bespoke RAL colours
- Standard or bespoke configuration available
- Vertical, horizontal or diagonal slat filling
- Allows optimised finishes with a no-chrome lacquer of 80 microns
- Paint finishing according heatproof lacquering certification scheme©
- Reinforced 6mm profile to support gate automation
- Easy maintenance, we say ZERO maintenance
- Wash with warm soapy water and a sponge, rinsing with clear water.
- Factory ISO 9001 : 2008 certification
- 10 year manufacturer guarantee
Delivery of your EMALU dual swing gate will contain:
- 2 Aluminium leaves builds of mortise and tenon joints
- 1 door handle (internal / external view)
- 1 Central close stop for the leaves
- 2 In-screed reception stops
- 1 Integrated single-point locking with 3 keys (European standard)
- 1 Reinforced panel to support gate automation
- 2 Adjustable hinges and 2 cover hinges
- 8 Profile cover stops
- For a maximum safety during transport, all our products are packed in foam and shrink wrapped
Do you want your dual swing gate automated?
Our team of experts has selected for you one of the best automatic gate driver systems available on the market, easy control and access.
Gate safety & access control equipment:
As soon as you have decided for an automation system, we propose different accessories to improve your access and protection to and of your property. Check out in the menu bar Automation, Access Control and Gate remotes.
Dual swing gate automation Motostar Eclistar:
- Easy mounting with help of 1 cable to 3 devices
- Adjustable opening and closing time
- Automatic setting of radio frequency for the transmission
- Back-up battery compatible (optional)
- Self learning system end of range opening and closing. THE KIT INCLUDES:
- 2 ECLISTAR articulated arm motors
- 1 CLICKSTAR remote control (433.92 Mhz)
- 1 pair of INFRASTAR photocells (10 m reach)
- 1 LUMISTAR flashing light (includes a wall fixing support)
- 1 Installation and user manual
HAVE YOUR GATE DELIVERED DIRECTLY AT YOUR DOOR !
WATCH HOW TO INSTALL YOUR DUAL SWING GATE ! Product Downloads
Warranty
Warranty

16 years

Shipping
in

42

days
This product is guaranteed by the MISTER GATES DIRECT brand network for a period of 16 years subject to assembly and installation in accordance with the instructions for use and use under normal conditions
Features
- Material: 100% recyclable aluminium
- Vertical profile size (mm): 100 x 54 mm
- Horizontal profile size (mm): 90 x 36 mm
- Reinforced 6 mm profile to accommodate gate automation
- Available standard height (in mm): 1600 - 1700 - 1800 aside pillars
- Available in standard width (in mm): 3000 - 3250 - 3500 - 3750 - 4000 - 4250 - 4500 - 4750 - 5000
- Different standard and bespoke RAL colours available
- Finishing: Plain boarded with Alunox inserts
- Style: Straight top
- Weight of product (Kg): 667 - 130
- Manufacturer guarantee: 16 years
(*) For standard sized swing gates, the gap between the leaf and post is 22 mm. Check the product sheet before ordering.
Reviews
great

Very good gates. Automation delivered with it is very efficient.

happy with services

Excellent service, fast responses, I'm very happy

Glad I chose them

Awesome experience with this company, I love their product, material, and design.
Recommended Products
The gate is an indispensable piece of equipment for your safety and comfort. It should therefore not be chosen unexpectedly. Although the swing gate is considered the ancestor of all opening systems, this model continues to appeal to a large number of households. This means that this equipment is timeless and still has a bright future ahead of it. And as it has become a trend, our platform has not failed to include a range of swing gates in our catalogue to help you make your choice.
CHARACTERISTICS OF A SWING GATE.
A swing gate is often composed of two leaves, but there are also models that are composed of a single leaf. A swing gate can open inwards or outwards and must not encroach on public roads. Regardless of the opening direction, the swing gate must remain perfectly safe.
There are two ways of installing a swing gate: installation between pillars where the gate opens at 90° and installation on the inside where the opening of your swing gate will be greater, reaching 180°.
In terms of dimensions, the swing gate is available in several sizes even though the standard width is approximately 3 m. For example, you can have a tailor-made swing gate where you can benefit from equipment up to 7 m or even more.
THE DIFFERENT TYPES OF SWING GATES.
A swing gate is available in a wide range of models. For example, if you need privacy, you can opt for a solid gate with aluminium sheet infillings or with wide aluminium slats. If you want to give your joinery a more elegant look, simply choose a perforated or semi-added gate. An all-bar gate is also a good idea for more aesthetics and charm for your home. Indeed, the latter is made up of bars (vertical or horizontal), and gives a glimpse of your external courtyard. There are also those that take the shape of a gendarme hat, convex, concave and many others.
Whatever your style, you will undoubtedly find the swing gate model that will harmonize with your entrance and your exterior design.
OPENING MANOEUVRE OF A SWING GATE.
A swing gate can be opened manually or motorised. You probably know that a manual gate requires the force of the arms to open it, whereas an automated gate opens via an intercom. Also, there are models whose opening and closing manoeuvre is carried out by remote controls. In this sense, an electric gate is more comfortable to use than a manual one.
WHAT DO YOU NEED TO KNOW ABOUT SWING GATE AUTOMATION?
As mentioned earlier, an automatic gate is activated by remote control. This means that you do not have to get out of your car to get in and out of your home. For this purpose, the swing gate motorisation requires the installation of a gate motor to ensure its manoeuvrability.
There are different types of gate motor as well as different types of motorisation, the choice of which should be made after careful consideration. Indeed, the actuator with jacks is better suited to joinery with a high weight, whereas the actuator with articulated arm is more suitable for an almost light gate. These articulated arms are of course fixed to each leaf to enable the gate to open quickly. The easiest to install is the motorisation integrated into the gate. With this type of gate automation, the mechanism is located in the vertical uprights of the leaves, and its installation does not require any masonry work. For sloping or deformed terrain, the wheel motorisation would be the best option. As the name suggests, a wheel is attached to the bottom of each leaf to ensure its manoeuvrability. Finally, there is the underground motorization. This type of motorisation makes it possible to conceal and protect the mechanical parts of the gate. It is recommended to have a flawless, solid and durable motorisation system.
WHAT MATERIAL FOR A SWINGING GATE?
Between wrought iron, wood and PVC, aluminium is the ideal material for a resistant swing gate with unrivalled aesthetic criteria. Indeed, aluminium allows you to have a modern gate with an original design or even a contemporary design according to your taste. Also, it is available in a wide range of colours, giving you the possibility to choose the ideal colour for your swing gate. Among these colour variants are for example grey (anthracite grey), white (Mm white), and brown. Furthermore, an aluminium swing gate is both customisable and low-maintenance.
Perfectly recyclable, the use of aluminium in the manufacture of gates ensures a clean environment. In addition, this material is characterised by its solidity and longevity. Fully resistant to weathering and corrosion, it ensures that the gate will last a long time. An aluminium swing gate is therefore the best solution for you, especially if your home is in a residential area. It defies not only the PVC gate, but also the wrought iron gate and the wooden gate.
With Mister Gates Direct, you can have an aluminium gate made to measure, with a price/quality ratio that defies all competition. What's more, your aluminium swing gate will be delivered to your home directly from the factory.
On MisterGatesDirect.com, discover the shop's other product ranges (in aluminium and PVC) apart from the made-to-measure aluminium gate. Of course, all the products in the shop are Qualicoat certified in terms of thermo-lacquering, to ensure you of their quality. What more could you ask for than a home closed by a custom-made, top-of-the-range house gate? So don't hesitate to entrust your exterior joinery to Mister Gates Direct to benefit from all these advantages.