Aluminium double swing driveway gate BOGOTA
Description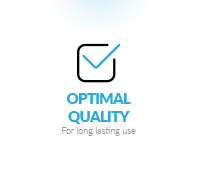 The EMALU products are both robust and lightweight for everyday use. Your gate will not warp, drop, bend or twist. The aluminium treatment and colour finish complies with the latest quality standards. Despite the fact your gate is out all year, it will not suffer from changing weather conditions.
The EMALU gates are made of 100% aluminium using high-grade and state-of-the-art materials. Your aluminium driveway or pedestrian gate by will not require any special surface treatment before or after installing. All EMALU productds are very resistant to saline environments and will not crack overtime.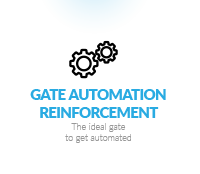 Your EMALU gate is designed from the beginning to accommodate a gate automation. A prefabricated reinforced profile spanning the width will make it much easier to install an electric opener for your driveway or pedestrian gate. At Mister Gates Direct we look for innovative solutions with the objectif to improve your daily comfort.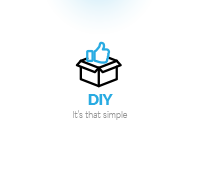 EMALU gates are provided with all the fixtures and fittings needed, you would not have thought that it would be that easy to install the gate. With help of our handy instruction manuals and videos you will find out how easy it is to install the driveway and / or pedestrian gate yourself.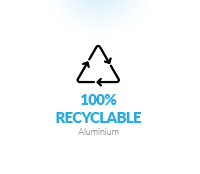 EMALU stands for sustainability. All our gates are made of 100% recyclable aluminium and are reusable in an eco-friendly environment. For the cleaning, no need of aggressive detergents, just wash with a warm soapy water and a sponge, rinsing with clear water.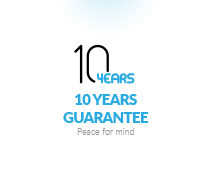 EMALU gates are specially treated against rust and corrosion complying with a seaside resistant heatproof lacquering. All our aluminium gates come with a 10-year guarantee. Our team remain at your entire disposal, also after you have purchased one of our products.
Product features of your EMALU dual swing gate:
- 100 % recyclable aluminium
- Assembled by tenons and mortises
- Resistant to corrosion and rust
- Extremely stable, will not warp, drop, bend or twist overtime
- Suitable for highly saline environments
- Available in several standard and bespoke RAL colours
- Standard or bespoke configuration available
- Vertical, horizontal or diagonal slat filling
- Allows optimised finishes with a no-chrome lacquer of 80 microns
- Paint finishing according heatproof lacquering certification scheme©
- Reinforced 6mm profile to support gate automation
- Easy maintenance, we say ZERO maintenance
- Wash with warm soapy water and a sponge, rinsing with clear water.
- Factory ISO 9001 : 2008 certification
- 10 year manufacturer guarantee
Delivery of your EMALU dual swing gate will contain:
- 2 Aluminium leaves builds of mortise and tenon joints
- 1 door handle (internal / external view)
- 1 Central close stop for the leaves
- 2 In-screed reception stops
- 1 Integrated single-point locking with 3 keys (European standard)
- 1 Reinforced panel to support gate automation
- 2 Adjustable hinges and 2 cover hinges
- 8 Profile cover stops
- For a maximum safety during transport, all our products are packed in foam and shrink wrapped
Do you want your dual swing gate automated?
Our team of experts has selected for you one of the best automatic gate driver systems available on the market, easy control and access.
Gate safety & access control equipment:
As soon as you have decided for an automation system, we propose different accessories to improve your access and protection to and of your property. Check out in the menu bar Automation, Access Control and Gate remotes.
Dual swing gate automation Motostar Eclistar:
- Easy mounting with help of 1 cable to 3 devices
- Adjustable opening and closing time
- Automatic setting of radio frequency for the transmission
- Back-up battery compatible (optional)
- Self learning system end of range opening and closing. THE KIT INCLUDES:
- 2 ECLISTAR articulated arm motors
- 1 CLICKSTAR remote control (433.92 Mhz)
- 1 pair of INFRASTAR photocells (10 m reach)
- 1 LUMISTAR flashing light (includes a wall fixing support)
- 1 Installation and user manual
HAVE YOUR GATE DELIVERED DIRECTLY AT YOUR DOOR !
WATCH HOW TO INSTALL YOUR DUAL SWING GATE ! Product Downloads
Warranty
Warranty

16 years

Shipping
in

42

days
This product is guaranteed by the MISTER GATES DIRECT brand network for a period of 16 years subject to assembly and installation in accordance with the instructions for use and use under normal conditions
Features
- Automation reinforcement on the intermediate crossbar
- Width (cm): from 250 cm to 500 cm
- Height (cm): from 107.6 cm to 221.2 cm
- Clearances: 52 mm (22 mm on each hinge + 8 mm central)
- Vertical uprights: 100 x 54 mm
- Horizontal crossbeams: 90 x 36 mm
- Material: Aluminium
- Colour: Anthracite Grey RAL 7016 - White RAL 9016 - Golden Oak - Green RAL 6005 - Bordeaux RAL 3005 - Blue RAL 5003 - Black RAL 9005
- Filling finish: Full
- Form: Straight
- Weight: 68Kg to 120Kg
Recommended Products
The gate plays a significant role in our property or residence. Indeed, it is dissuasive, decorative and, above all, protective. A gate must therefore have at least two essential qualities: it must be resistant and aesthetic. This way, the equipment will be able to ensure your security against unwanted intrusions and burglaries. Mister Gates Direct offers you the 2-wing aluminium gate. A wide choice of models awaits you in our shops and our online shop Mistergatesdirect.com.
MAKE THE RIGHT CHOICE OF GATE
Before deciding to purchase the gate, you should first think about a few criteria. This starts with the type of opening. It is often difficult to choose between a hinged and a sliding opening. However, we recommend that you opt for a hinged model for several reasons. First of all, the price of a swing gate is accessible to all budgets. Furthermore, you are not required to hire an installer for installation, as this type of gate is fairly simple to install. Then, equipped with two leaves, a swing gate can offer you an opening angle of 90° for installation between posts and 180° for surface installation. As for the opening direction, it is more advisable to choose an inward opening direction, especially if an outward opening direction could obstruct the public highway. For an inwardly sloping entrance, it is more reasonable to choose a sliding gate.
Once you have decided to opt for a swing gate, then consider the model and shape. The choice will depend on your expectations and needs. For example, a solid gate will offer you optimum security and privacy. If you want to have a view to the outside of your property, there is the semi-open gate, and if however you wish to have a lot of light in your residence, opt for an openwork gate. You will also need to think about the shape of the gate according to your taste and personality. If you like simplicity, a straight gate is obviously the best choice. If you prefer more stylish shapes, several choices are available: a concave gate, a convex gate or the famous gate in a gendarme's hat. For an original design gate, you can opt for an asymmetrical model where the width of the two leaves is unequal.
Another very important criterion when choosing a gate is the choice of material. The material must be very strong, aesthetically pleasing and durable. Thus, you can turn to the natural aesthetics and solidity of a wooden gate. Of course, as this material is not very weather-resistant, it should be maintained regularly, at least twice a year. You can also choose a steel or wrought iron gate. Very solid, but sensitive to corrosion and rust. You will need to paint and rust proof it regularly to protect it. If you want a gate at an affordable price, choose the PVC gate. What's more, it's lightweight and requires very little maintenance. On the other hand, it is fragile and has a fairly short lifespan. An interesting investment: an aluminium swing gate.
WHY OPT FOR AN ALUMINIUM SWING GATE?
As a building material, aluminium represents modernity. Of course, it adapts just as well to a contemporary style as it does to a traditional one. An aluminium swing gate will guarantee aesthetics and robustness that verge on excellence. It is a durable material with high resistance to impact and weathering, essential qualities for gates with wide slats. An aluminium swing gate therefore meets all the criteria expected for this equipment. Being a very malleable material, aluminium can be worked to give the models and shapes of gate you want. In addition to its pure design, aluminium gates are available in many colours (white and grey, brown, anthracite grey, etc.). The lightness of this type of gate makes it very easy to operate. So you will have no trouble handling it whether you choose a manual gate or a gate with a motor. Advantages that distinguish an aluminium gate from other types of gates: in addition to its long service life, it does not require much maintenance, a wipe and soapy water are all that is needed. Finally, this material is environmentally friendly as it is 100% recyclable. A swinging aluminium gate is often fitted with a motor reinforcement on the base to adapt to an automatic system.
EQUIP YOUR ALUMINIUM SWING GATE WITH A MOTORISED SYSTEM TO OPTIMISE SAFETY AND COMFORT.
With the advent of home automation and automation, a manual portal is no longer an option. Indeed, with an electric gate, comfort and safety are guaranteed. It will no longer be necessary to push the gate for opening and closing. All you have to do is control it by remote control. There are 5 types of swing gate motorisation available. The swing gate operator with articulated arms available in two models: electromechanical and hydraulic. This motorisation system is suitable for many configurations, but a little cumbersome. Cylinder motorisation also available in two models: hydraulic cylinder and reversible cylinder. This type of motor is suitable for large and heavy gates. There is also the underground motorisation, perfect for maintaining the aesthetics of the gate. On the other hand, its installation requires a lot of masonry work and this increases its price. The integrated motorisation also makes it possible to maintain the aesthetics of the gate, but if you opt for this type of automation, you will have to buy a new gate. Finally, there is the wheel motorisation, which is cheaper and more practical. All that is required is to attach a motorised wheel to each gate leaf.
FIND THE RIGHT ALUMINIUM SWING GATE FOR YOU AT MISTERGATESDIRECT.COM
Mister Gates Direct offers you a wide range of aluminium swing gates. Our products have been designed by craftsmen carpenters qualified in this field. Experts who master the various profile assembly techniques such as mechanical assembly or mortise and tenon assembly. In addition, the aluminium gates that we offer you have thermo-lacquering certified by the Qualicoat and Qualimarine labels guaranteeing their quality as joinery for exterior use. We have all the models you are looking for and if this is not the case, we take custom orders in order to offer you the joinery that corresponds to your needs and expectations. Our aluminium swing gates and sliding gates are of superior quality. Looking for products for your joinery work with the best value for money? Just one address: Mistergatesdirect.com. Products direct from the factory and delivered to your home, guaranteed for several years, there's no need to hesitate!