Description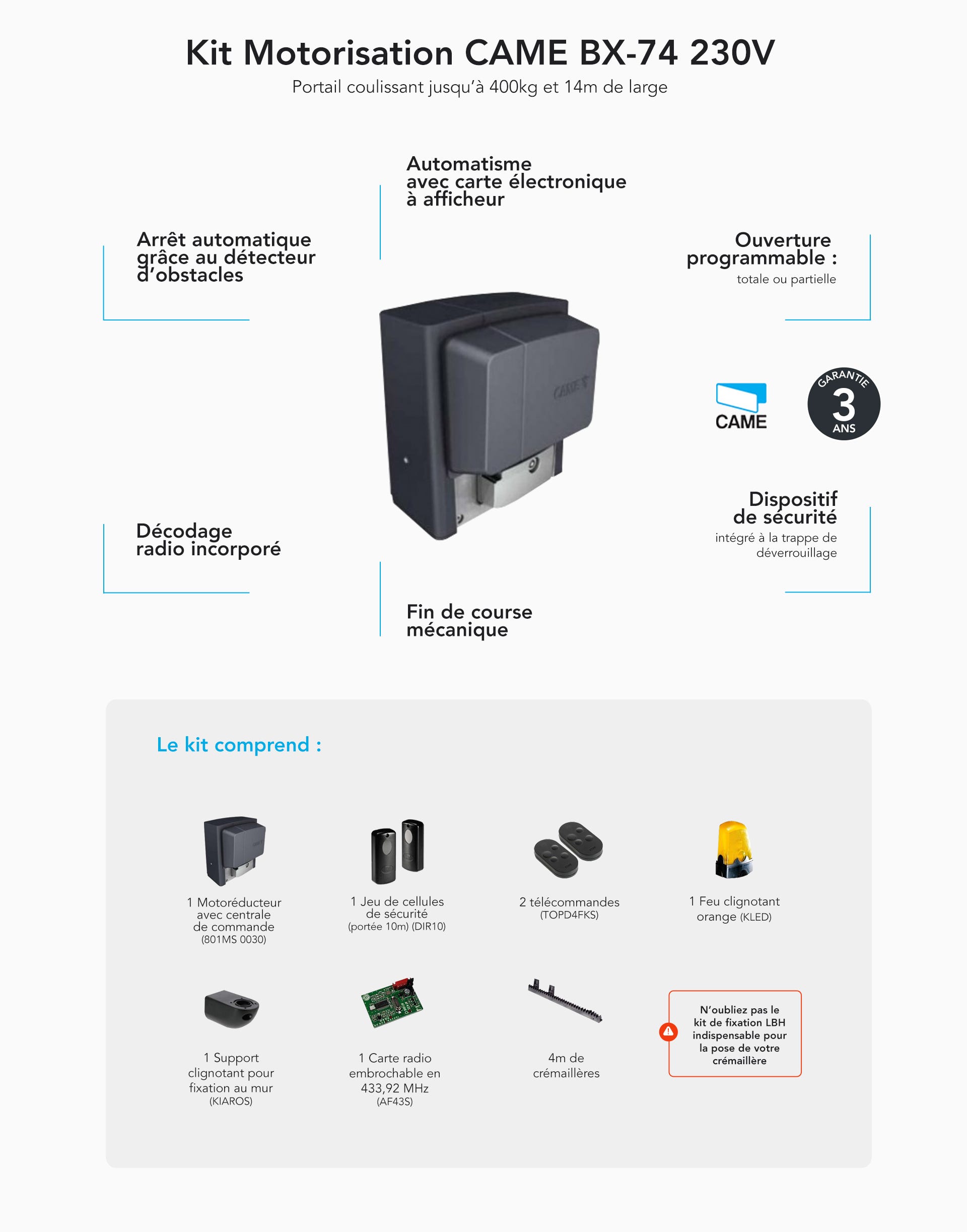 Complete automation KIT CAME BX-74 for sliding gate
Discover the simplicity and easiness of the complete automation KIT CAME BX-74, especially designed to operate your residential sliding gate EMALU. State-of-the-art technology combined with day-to-day performance and user safety of your sliding gate automatically.
This CAME operator is made of a cast aluminium part inside of which operates the irreversible, electromechanical gear motor and an ABS plastic lining which holds the electronic card and transformer.
Product features of the CAME BX-74:
✓ Extreme durable and resistant to all weather conditions.
✓ Gate Safe Aware security EN approved: electronic obstruction detection.
✓ Programmable opening: full or partial.
✓ Motion control system, remote control can stop gate immediately.
✓ Easy access, simplified and secured manoeuvre.
The CAME BX-74 KIT is completed as following:
- BX74 assembly + remote control
- Drive rack of 4x 1m
- Reception Antenna
- Flashing light
- Key switch selector
- Safety photocells
- Electric cable junction box
- Mechanical end stops
- Manufacturer guarantee: 3 years
+ 1 extra remote control offered
Automatic sliding gate driver kit CAME - BX-74. Automation system for sliding gates, ultra resistant to extreme weather conditions. 3-Year manufacturer guarantee
Warranty
Warranty

3 years

Shipping
in

5

days
This product is guaranteed by the CAME brand network for a period of 3 years subject to assembly and installation in accordance with the instructions for use and use under normal conditions
Features
Automation kit CAME BX-74
- Weight : 15 Kg
-Power consumption : 200 Watt
-Control panel power supply : 230V A.C. - 50/60 Hz
-Protection rating : IP54
-Insulation class : 1
-Maximum draw (A) : 2.6
-Max Torque (Nm) : 24
-Reduction ratio : 1/33
-Thrust : 300 N
-Maximum speed : 10 m/min
-Operative intermittence : 30%
-Maximum weight of leaf : 400 Kg
-Operating temperature : -20°C / +55°C
-Engine thermal protection : 150°C
Recommended Products