Description
It's that easy to install your EMALU sliding gate by yourself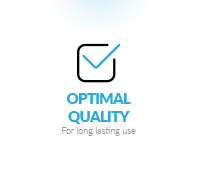 The EMALU products are both robust and lightweight for everyday use by all members of your family. Your EMALU gate will not warp, drop, bend or twist. The colour finishing will not crack overtime.
The EMALU gates are made of 100% aluminium using high-grade and state-of-the-art material. They do not require any special surface treatment before or after installing. They are resistant to the most extreme weather conditions.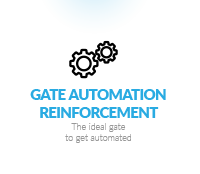 Your EMALU gate is designed from the beginning to accommodate automatic gate opener. A reinforced profile spanning the width allows for an easy and fast installation of an automation kit for a daily comfort.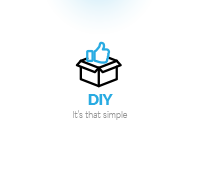 EMALU gates are provided with all the fixtures and fittings needed, you would not have thought that it would be that easy to install the gate. With help of our instruction manuals and videos you will find out how easy it is to install the gate yourself.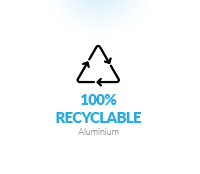 EMALU stands for sustainability, committed to an eco-friendly environment. All our gates are made of 100% recyclable aluminium, one of the most environmentally friendly processes across the metals industry and can be endlessly recycled while keeping its distinctive properties.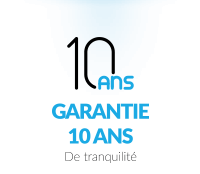 MisterMenuiserie conçoit des portails solides et résistantes à tous les chocs et déformations. Mais la qualité de notre service ne s'arrête pas là ! Tous les équipements sont également garantis 10 ans, pour une assistance permanente et rapide en cas de problème.
Product features of your sliding gate:
- 100 % recyclable aluminium gate
- Profiles assembled by tenons and mortises
- Reinforced 6mm profile to support gate automation
- Left or right opening available (street view)
- Standard or bespoke configuration available
- Vertical, horizontal or diagonal slat filling
- Extremely stable, will not warp, drop, bend or twist overtime
- Different standard and bespoke RAL colours available
- Seaside resistant heatproof lacquering product certification scheme
- Resistant to corrosion and rust
- QUALICOAT© label
- Factory ISO 9001 : 2008 certification
- Easy maintenance, we say ZERO maintenance
- For a maximum safety during transport, all our products are packed in foam and shrink wrapped
Delivery of your sliding gate will contain:
- 1 Aluminium leaf with opening to the left or right (from external view)
- 1 Door handle (interior / exterior)
- 1 Integrated single-point locking with 3 keys (European standard)
- 1 Close stop
- 2 Galvanised drive tracks
- 1 Reception stop
- 4 End caps
- 10 year manufacturer guarantee
Do you want your sliding gate automated?
Our team of experts has selected for you one of the best automatic gate driver systems available on the market, easy control and access.
Gate safety & access control equipment:
As soon as you have decided for an automation system, we propose different accessories to improve your access and protection to and of your property. Check out in the menu bar Automation, Access Control and Gate remotes.
Sliding gate automation Motostar Linestar:
- Incorporated electronic circuit board in the control panel.
- LED light integrated in circuit board for an easy diagnosis of the state of the electronics in your gate operator.
- Easy installation with 1 single cable up to 3 devices.
- Automatic slowdowns.
- Includes release hatch for manual opening in case of power failure.
- Support any sliding gate with a weight up to 400 Kg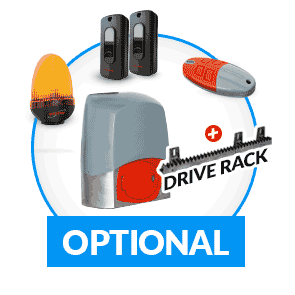 YOUR GATE AUTOMATION WILL INCLUDE:
- LINESTAR sliding gate automation system
- 1x CLICKSTAR remote control (4 channels)
- 1x pair of INFRASTAR photo safety cells (10m reach)
- LUMISTAR flashing light (inludes a wall fixing support)
- Battery for remote control and installation and user manual
+ 4-6m of drive rack (depending on gate size)
Choosing a gate can be difficult. Indeed, a gate is a central feature to a home. A gate must provide security, practicality but also add to the look of the home. A gate must add and not detract from the design of your home. A gate should be an aesthetic feature. At MisterGatesDirect we understand the difficulty of finding and choosing the perfect gate for your home. For this reason, we have selected for you the top designs and quality products on the market at affordable prices.
SLIDING GATES: A SURE BET
On MisterGatesDirect we offer the aluminium sliding gate semi-open work CAMOTES. A sliding gate is modern, practical, safe and elegant. This is why more and more people are opting for sliding gates. A sliding gate, unlike a swing gate, does not require a large opening space. In fact, a sliding gate only requires an equal clearing space on either side. Additionally, a sliding gate can be fitted on a slopped driveway easily. A sliding gate can also fit into narrow spaces which other gate models cannot. In other words, a sliding gate is the perfect option if you entrance is spatially limited, situated on a slope or does not have a large front clearing space.
ALUMINIUM SLIDING GATES: THE ADVANTAGES
Aluminium is currently a material in high demand. Indeed, aluminium has many advantageous features. Aluminium is a robust and durable material. Aluminium does not rust, corrode or warp over time. Aluminium is highly resistant to shocks and bad weather conditons. Another great advantage, is the little maintenance required. All that is needed is a little water and non corrosive product, and the job is done. With all these advantages, it is no wonder that manufacturers are opting more and more for aluminum as their main material for gates.
By choosing an aluminium gate, you are choosing a durable, practical, modern and elegant product. On MisterGatesDirect we offer a large range of aluminium sliding gates in many colours and sizes. All you have to do is customise your unique gate in accordance to your tastes and requierements. You are sure to find the perfect gate for your home on mistergatesdirect.com
EMALU ALUMINIUM SLIDING GATE CAMOTES: THE IDEAL GATE FOR YOUR HOME
At MisterGatesDirect, we aim to make your shopping experience as enjoyable and stress free as possible. We have selected top quality sliding gates for your convenience. All of these gates have the option to be personalised by choosing the colour and size. The aluminium sliding gate CAMOTES is a unique product. This gate is durable, strong, safe and modern. EMALU assembles all its gates with tenons and mortises to ensure its durability. EMALU treats all its gates with a protective lacquering to prevent rust, corrosion and warping. So, if you live by the sea the EMALU aluminium sliding gate CAMOTES is ideal.
The design of the aluminium sliding gate CAMOTES is semi-open work which will ensure privacy. The aluminium sliding gate CAMOTES convex shape will add a modern and elegant look to your home. All EMALU gates can be fitted with automated motorised system. With a simple click of the button you can open and close your gate. This will not only add to your daily comfort and ease but also provide you with more security. You can control your gate from the comfort of your home or your car.
So, visit mistergatesdirect.com today and customise your perfect gate! At MisterGatesDirect we offer the best quality products on the market at unbeatable prices.
Features
- Material: 100% recyclable aluminium
- Vertical profile size (mm): 100 x 54 mm
- Horizontal profile size (mm): 90 x 36 mm
- Available standard height (in mm): 1600 - 1700 - 1800 aside pillars
- Available in standard width (in mm): 3000 - 3250 - 3500 - 3750 - 4000 - 4250 - 4500 - 4750 - 5000
- Different standard and bespoke RAL colours available
- Finishing: Mixed infill
- Style: Curved top
- Weight of product: 68 - 120 Kg
- Manufacturer guarantee: 10 years
Recommended Products