Aluminium sliding driveway gate BRAGA
Description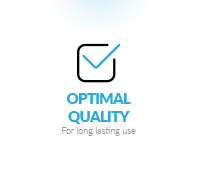 Mister Gates products are both robust and lightweight for everyday use by all members of your family. Your gate will not warp, drop, bend or twist. The colour finishing will not crack overtime.
Our gates are made of 100% aluminium using high-grade and state-of-the-art material. They do not require any special surface treatment before or after installing. They are resistant to the most extreme weather conditions.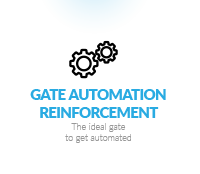 Your gate is designed from the beginning to accommodate automatic gate opener. A reinforced profile spanning the width allows for an easy and fast installation of an automation kit for a daily comfort.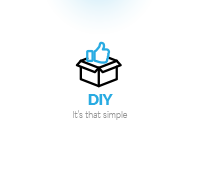 Our gates are provided with all the fixtures and fittings needed, you would not have thought that it would be that easy to install the gate. With help of our instruction manuals and videos you will find out how easy it is to install the gate yourself.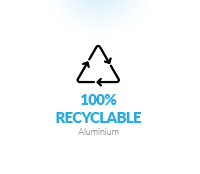 Mister Gates stands for sustainability, committed to an eco-friendly environment. All our gates are made of 100% recyclable aluminium, one of the most environmentally friendly processes across the metals industry and can be endlessly recycled while keeping its distinctive properties.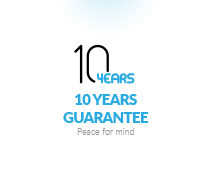 Our gates and fences are specially treated against rust and corrosion complying with a seaside resistant heatproof lacquering product certificate on QUALICOAT and QUALIMARINE. All our gates come with a standard 16 year manufacturer guarantee.
Product features of your sliding gate:
- 100 % recyclable aluminium gate
- Profiles assembled by tenons and mortises
- Reinforced 6mm profile to support gate automation
- Left or right opening available (street view)
- Standard or bespoke configuration available
- Vertical, horizontal or diagonal slat filling
- Extremely stable, will not warp, drop, bend or twist overtime
- Different standard and bespoke RAL colours available
- Seaside resistant heatproof lacquering product certification scheme
- Resistant to corrosion and rust
- QUALICOAT© label
- Factory ISO 9001 : 2008 certification
- Easy maintenance, we say ZERO maintenance
- For a maximum safety during transport, all our products are packed in foam and shrink wrapped
Delivery of your sliding gate will contain:
- 1 Aluminium leaf with opening to the left or right (from external view)
- 1 Door handle (interior / exterior)
- 1 Integrated single-point locking with 3 keys (European standard)
- 1 Close stop
- 2 Galvanised drive tracks
- 1 Reception stop
- 4 End caps
- 16 year manufacturer guarantee
Do you want your sliding gate automated?
Our team of experts has selected for you one of the best automatic gate driver systems available on the market, easy control and access.
Gate safety & access control equipment:
As soon as you have decided for an automation system, we propose different accessories to improve your access and protection to and of your property. Check out in the menu bar Automation, Access Control and Gate remotes.
Sliding gate automation Motostar Linestar:
- Incorporated electronic circuit board in the control panel.
- LED light integrated in circuit board for an easy diagnosis of the state of the electronics in your gate operator.
- Easy installation with 1 single cable up to 3 devices.
- Automatic slowdowns.
- Includes release hatch for manual opening in case of power failure.
- Support any sliding gate with a weight up to 400 Kg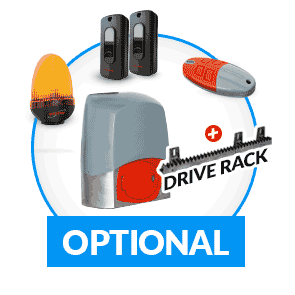 YOUR GATE AUTOMATION WILL INCLUDE:
- LINESTAR sliding gate automation system
- 1x CLICKSTAR remote control (4 channels)
- 1x pair of INFRASTAR photo safety cells (10m reach)
- LUMISTAR flashing light (inludes a wall fixing support)
- Battery for remote control and installation and user manual
+ 4-6m of drive rack (depending on gate size)
WATCH HOW TO INSTALL YOUR SLIDING GATE !
HAVE YOUR GATE DELIVERED DIRECTLY AT YOUR DOOR ! Product Downloads
Warranty
Warranty

16 years

Shipping
in

42

days
This product is guaranteed by the MISTER GATES DIRECT brand network for a period of 16 years subject to assembly and installation in accordance with the instructions for use and use under normal conditions
Features
- Material: 100% recyclable aluminium
- Vertical profile size (mm): 100 x 54 mm
- Horizontal profile size (mm): 90 x 36 mm including a reinforced aluminium structure to facilitate gate automation
- Available standard height (in mm): 1000 - 1100 - 1200 - 1300 - 1400 - 1500 - 1600 - 1700 - 1800 (aside post)
- Available in standard width (in mm): 3000 - 3250 - 3500 - 3750 - 4000 - 4250 - 4500 - 4750 - 5000
- Different standard and bespoke RAL colours available
- Half plain boarded - half louvre style
- Style: Straight top
- Weight of product (Kg): 67 - 130
- Manufacturer guarantee: 16 years
Reviews
I recommend

Quality material and design. Delivered a bit late but customer team service was here to help.

Brilliant

Love the product.They deliver on time

Quality Produtts

Fast responses from the customer service team. easy to buy. Very good quality.
Recommended Products
Much more than a simple access to a dwelling, the gate is above all a protective barrier separating a house from the public highway. As a decorative element in its own right, a gate is also the first impression you get of a house. In order to fulfil all these roles, the choice of gate must be carefully considered. If you have already set your sights on the sliding model, then you are really looking for practicality and modernity. Our online shop MisterGatesDirect offers you a comprehensive catalogue as a service. We would particularly like to draw your attention to the Braga aluminium sliding gate model.
A SLIDING GATE, SYNONYMOUS WITH SIMPLICITY AND PRACTICALITY
If there is one type of gate opening that is attracting more and more private individuals these days, it is the sliding gate. Opening mainly to the side, the sliding gate is well known for its practicality and the level of security it offers. In fact, the sliding gate is extremely practical, as it does not create any movement. In fact, the leaves do not open either inside or outside the house. Instead, sliding to the left or right of the façade, almost glued to the wall, the maximum opening by sliding allows the passage to be unobstructed. A sliding gate is especially an excellent choice for shallower grounds and uphill entrances. Sliding along the fence, this system is especially space-saving. High security, simplicity, modernity, practicality and efficiency are the key words for a sliding gate. This type of gate is indeed the model that takes up less space when opening. The sliding gate is available in two models. On the one hand, there is the rail gate, which is particularly suitable for less intensive use. On the other hand, there is also the self-supporting gate. In contrast to the first model, the self-supporting system is designed for intensive use or even frequent vehicle traffic.
ALUMINIUM SLIDING GATE, THE CHOICE OF DURABILITY AND EXCELLENCE
The first advantage of an aluminium sliding gate is the guaranteed gain in light. Thanks to the latter, you will enjoy a room totally bathed by the sun's rays. In terms of design, aluminium profile joinery also has a lot to say. In fact, this material offers a very rich palette of colours and shapes. With aluminium gates, you can be sure to enjoy an infinite choice of colours. You are free to imagine and choose the shapes that you like and that will blend in with your architecture. Particularly strong, durable and corrosion and rust resistant, aluminium is the most durable material available for joinery. Last but not least, aluminium's undeniable advantage is its ease of maintenance. It requires very little maintenance. Therefore, to keep it clean and shiny for a very long time, a simple cleaning with water should suffice. It should also be noted that aluminium is a healthy material par excellence. It is renewable and 100% recyclable. In short, investing in aluminium joinery is a long-term investment. What's more, it adds value to the home.
CHOOSING AN ALUMINIUM SLIDING GATE: CRITERIA TO CONSIDER
Being permanently exposed to the weather and put to the test through daily and intensive use, the choice of sliding gate requires several criteria to be taken into account. Above all, the choice must be based on a solid and durable material, just like aluminium. The style and shape of the gate are also very important criteria. You can choose from a variety of shapes, including straight, asymmetrical, convex or inverted. The degree of privacy of the gate is also very important. Open, half-open or full, the choice is yours. For your convenience, it is also possible to motorise your gate. Indeed, the installation of an automatic gate is a daily comfort, because it avoids the painful chore of opening and closing it. For a swing gate, you can choose between arm, cylinder or integrated operators. For a sliding gate, you can choose a rack and pinion operator.
EMALU'S BRAGA SLIDING ALUMINIUM GATE, THE MODEL YOU NEED
Whether under construction or new, the choice of portal is a step not to be underestimated. If finding the modern and ideal gate is a real headache for you. Our MisterGatesDirect shop is there to offer you valuable help and a wide choice of models. Above all, we must admit that all the gate models we sell are perfectly in line with the current trend and the aesthetic requirements of all customers who are looking for more authenticity. This Braga design aluminium gate is proof of just that. A perfect combination of design and French-style top-of-the-range quality, this model really has everything to seduce. The Tenon/Mortise assembly system is a latest-generation system. If you are also looking for a compromise between modernity, solidity, longevity, design, resistance and elegance, this Braga aluminium sliding gate is the right choice for you. In addition to being resistant, this solid and straight gate brings discretion and more privacy to your property. If you are very demanding when it comes to choosing a gate, this custom-made Braga aluminium gate is sure to attract your attention, both in terms of quality and design and in terms of resistance and protection. So that you can get a gate that suits your wishes, this Braga model can also be customised. Golden oak, ivory, anthracite, white and grey, there are several colour variations. What's more, being of very good quality, its lacquering is guaranteed for several years. In order to facilitate access to your home while making it safe, the installation of a motorization system can also be considered. What's more, our MisterGatesDirect shop promises you a direct factory price. In fact, for all our joinery models, we offer you the lowest price on the market.