Description
let tim show you everything you need to know about the denia
It's that easy to install your pedestrian gate EMALU yourself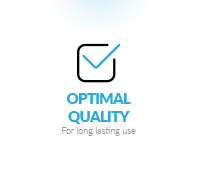 The EMALU products are both robust and lightweight for everyday use by all members of your family. Your EMALU gate will not warp, drop, bend or twist. The colour finishing will not crack overtime.
The EMALU pedestrian gates are made of 100% aluminium using high-grade and state-of-the-art material. They do not require any special surface treatment before or after installing. They are resistant to the most extreme weather conditions.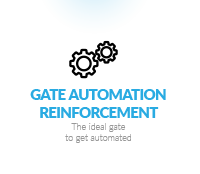 Your EMALU pedestrian gate is designed from the beginning to accommodate automatic gate opener. A reinforced profile spanning the width allows for an easy and fast installation of an automation kit for a daily comfort.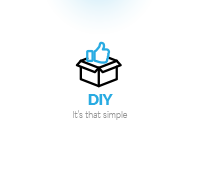 EMALU pedestrian gates are provided with all the fixtures and fittings needed, you would not have thought that it would be that easy to install the gate. With help of our instruction manuals and videos you will find out how easy it is to install the gate yourself.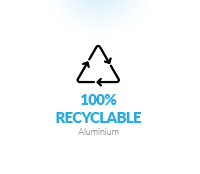 EMALU stands for sustainability, committed to an eco-friendly environment. All our gates are made of 100% recyclable aluminium, one of the most environmentally friendly processes across the metals industry and can be endlessly recycled while keeping its distinctive properties.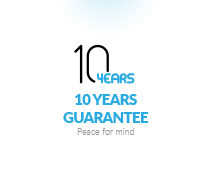 EMALU gates and fences are specially treated against rust and corrosion complying with a seaside resistant heatproof lacquering product certificate on QUALICOAT and QUALIMARINE. All EMALU products come with a standard 10 year manufacturer guarantee.
FEATURES OF YOUR PEDESTRIAN GATE:
- Aluminium profiles assembled by tenons and mortises
- Reinforced 6mm profile to support gate automation
- Plain boarded, vertical slats
- Available colours: WHITE RAL 9016 - ANTHRACITE GREY RAL 7016
- Extremely stable, will not warp, drop, bend or twist overtime
- Suitable for highly saline environments
- Seaside resistant heatproof lacquering product certification scheme
- 100 % recyclable aluminium, resistant to corrosion and rust
- Easy maintenance, we say ZERO maintenance
- Different accessories included
YOUR PEDESTRIAN GATE IS SUPPLIED WITH:
- 1 Aluminium leaf with universal opening (left or right upon your needs)
- 1 Door handle (interior / exterior)
- 1 integrated single point key lock (European standard) + 3 keys
- 1 Reinforced profile to support electric gate opener
- 2 Adjustable hinges with aluminium quality cover
- 4 End caps
- 10 manufacturer guarantee
Do you want your pedestrian gate automated?
Our team of experts has selected for you one of the best automatic gate driver systems available on the market, the NICE WALKYKIT, easy control & access.
- EN approved and complies with Gate Safe Aware Security standards
- Includes an automatic obstacle detection feature
- Safe irreversible motor and anti-shear arm
- Self learning mode and closing limit positions
- Automatic fault diagnosis
- Programming of pause time
- To ensure safety of user, deceleration on opening and closing
- Quick installation
- Easy to program with one single button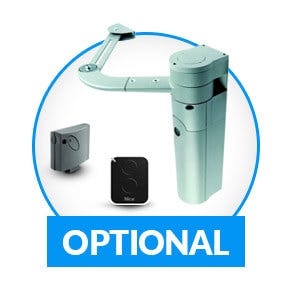 YOUR GATE AUTOMATION WILL INCLUDE:
- NICE WALKY KIT low voltage electric gate opener
- Irreversible electromechanical gear motor 24 V.A.C.
- Incorporated control unit and receiver
- Transmitter 433.92 MHz
- 1 Gate remote NICE ON2E
- Installation and instruction manual
Pour une entrée piétonne, mettre en place un portillon est plus pratique. Cependant, comme le portail, il se doit d'être à la fois solide, résistant, mais nécessite aussi d'être beau et esthétique. De cette façon, il habille élégamment la propriété en lui assurant une grande protection. Ici, EMALU, le grand constructeur de menuiserie en aluminium vous propose un modèle très séduisant et très robuste.
Pourquoi miser sur un portillon de chez EMALU ?
Tel qu'il est dit plus haut, EMALU est un fabricant réputé dans la conception de menuiserie en aluminium. Et comme le choix d'un portillon ne doit pas être négligé tant au niveau de sa solidité et de son esthétique, choisir une marque reconnue est la meilleure solution. Avec EMALU, vous serez sûr d'avoir un équipement fiable et durable. En effet, c'est une marque de qualité, car elle garantit non seulement des produits solides et résistants, mais qui présente également un certain charme.
Avec un portillon signé EMALU, certainement, vous n'aurez pas à remplacer tout le temps votre équipement. Il ne se déforme pas facilement et ne se décolore pas non plus au fil du temps. Au contraire, même sans entretien, il sait garder son élégance pendant une très longue période. En effet, il ne craint ni la corrosion, ni la rouille, ni les différentes intempéries. Bref, c'est un équipement adapté à toutes les régions. Pour ce qui est de la résistance de ses équipements, il n'y a rien à dire, car les portails, portes et portillons EMALU ne craignent ni cambriolages, ni effractions. Il est bon de préciser que cette marque ne cesse de mettre à la disposition de ses clients une variété de modèles afin que chaque foyer puisse s'équiper d'une menuiserie qui lui convient.
Comment choisir son portillon ?
Pour bien choisir un portillon, plusieurs critères entrent en compte. Mis à part la marque, c'est-à-dire, le constructeur, le matériau avec lequel il est conçu, sa forme et son style ne doivent pas non plus être négligé.
Pour le matériau, sachez qu'EMALU a choisi l'aluminium pour de nombreuses raisons. Outre sa forte résistance, il présente l'avantage d'être plus esthétique. Si vous choisissez un portillon en aluminium, vous aurez non seulement un équipement qui dure plusieurs années, mais qui donne aussi du charme à votre demeure.
Choisissez également un portillon alu qui s'adapte à la forme et au style de votre habitation. Ce sont ces deux critères qui lui rendent plus élégant et plus charmant. Tâchez de prendre un modèle adapté à la configuration de votre maison pour qu'il s'harmonise parfaitement. Lors de votre choix, n'oubliez pas de tenir compte de votre budget.
Le portillon alu poussant universel droit plein emalu denia
Un portillon EMALU vous tente ? Voici un modèle très esthétique et très résistant : le portillon alu poussant universel droit plein denia. Il est conçu totalement en aluminium et demeure insensible tant à la corrosion qu'à la rouille. Ce qui lui permet de s'adapter aux régions à forte salinité. Il profite d'une finition en alunox et d'un thermo laquage certifié par le label QUALICOAT, vous assure d'une qualité supérieure pour les menuiseries à usage extérieur. Muni d'un renfort motorisation de 6 mm d'épaisseur (placé à l'intérieur sur toute la longueur de la traverse horizontale), il permet une installation solide d'un automatisme. Il est bon de préciser que ce modèle n'exige pas un entretien particulier. Plusieurs accessoires sont fournis avec lui pour faciliter son usage et son installation. Notez que sur notre magasin en ligne MisterMenuiserie.com, vous pouvez le payer en 4 fois sans frais. Alors, qu'attendez-vous de plus ?
Features
- Material: 100% recyclable aluminium
- Vertical profile size (mm): 100 x 54 mm
- Horizontal profile size (mm): 90 x 36 mm
- Available standard height (in mm): 1600 - 1700 - 1800 aside pillars
- Available in standard width (in mm): 800 - 900 - 1000 - 1100 - 1200 - 1300 - 1400 - 1500
- Different standard and bespoke RAL colours available
- Finishing: straight top
- Louvre style
- Weight of product (Kg): 31 - 64
- Manufacturer guarantee: 10 years
(*) For standard sized swing gate, please check the product sheet before ordering.
Recommended Products