Description
It's that easy to install your pedestrian gate EMALU yourself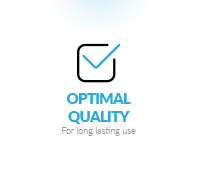 The EMALU products are both robust and lightweight for everyday use. Your gate will not warp, drop, bend or twist. The aluminium treatment and colour finish complies with the latest quality standards. Despite the fact your gate is out all year, it will not suffer from changing weather conditions.
The EMALU gates are made of 100% aluminium using high-grade and state-of-the-art materials. Your aluminium driveway or pedestrian gate by will not require any special surface treatment before or after installing. All EMALU products are very resistant to saline environments and will not crack overtime.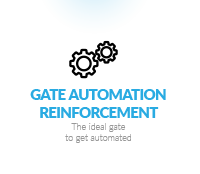 Your EMALU gate is designed from the beginning to accommodate a gate automation. A prefabricated reinforced profile spanning the width will make it much easier to install an electric opener for your driveway or pedestrian gate. At Mister Gates Direct we look for innovative solutions with the objective to improve your daily comfort.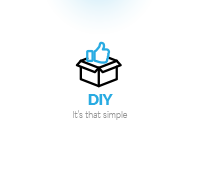 EMALU gates are provided with all the fixtures and fittings needed, you would not have thought that it would be that easy to install the gate. With help of our handy instruction manuals and videos you will find out how easy it is to install the driveway and / or pedestrian gate yourself.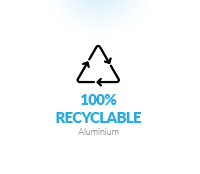 EMALU stands for sustainability. All our gates are made of 100% recyclable aluminium and are reusable in an eco-friendly environment. For the cleaning, no need of aggressive detergents, just wash with a warm soapy water and a sponge, rinsing with clear water.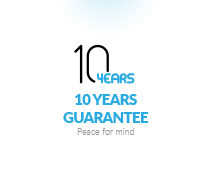 EMALU gates are specially treated against rust and corrosion complying with a seaside resistant heatproof lacquering. All our aluminium gates come with a 10-year guarantee. Our team remain at your entire disposal, also after you have purchased one of our products.
Product features of your pedestrian gate:
- 100 % recyclable aluminium
- Assembled by tenons and mortises
- Resistant to corrosion and rust
- Extremely stable, will not warp, drop, bend or twist overtime
- Suitable for highly saline environments
- Available in several standard and bespoke RAL colours
- Standard or bespoke configuration available
- Vertical, horizontal or diagonal slat filling
- Allows optimised finishes with a no-chrome lacquer of 80 microns
- Paint finishing according heatproof lacquering certification scheme©
- Reinforced 6mm profile to support gate automation
- Easy maintenance, we say ZERO maintenance
- Wash with warm soapy water and a sponge, rinsing with clear water.
- Factory ISO 9001 : 2008 certification
- 10 year manufacturer guarantee
Your pedestrian gate is supplied with:
- 1 Aluminium leaf with universal opening (left or right upon your needs)
- 1 Door handle (inside / outside position)
- 1 integrated single point key lock + 3 keys (European standard)
- 1 Reinforced profile to support electric gate opener
- 2 Adjustable hinges with aluminium quality cover
- 4 End caps
- For a maximum safety during transport, all our products are packed in foam and shrink wrapped
Do you want your pedestrian gate automated?
Our team of experts has selected for you one of the best automatic driver systems available on the market, easy control and access.
Gate safety & access control equipment:
As soon as you have decided for an automation system, we propose different accessories to improve your access and protection to and of your property. Check out in the menu bar Automation, Access Control and Gate remotes.
Pedestrian gate automation NICE WALKYKIT
- EN approved and complies with Gate Safe Aware Security standards
- Includes an automatic obstacle detection feature
- Irreversible motor and anti-shear arm
- Self learning mode and closing limit positions
- Automatic fault diagnosis
- Programming of pause time
- To ensure safety of user, deceleration on opening and closing
- Quick and easy installation
- Easy to program with one single button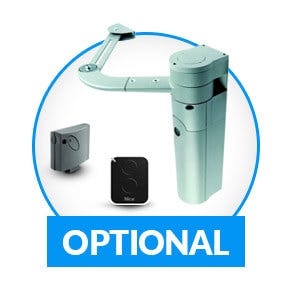 Your gate automation will include:
- NICE WALKY KIT low voltage electric gate opener
- Irreversible electromechanical gear motor 24 V.A.C.
- Incorporated control unit and receiver
- Transmitter 433.92 MHz
- 1 Gate remote NICE ON2E
- Installation and instruction manual
Le portillon alu droit plein Emalu Canterbury est fait pour l'entrée de votre propriété. Il servira à la fois de barricade et d'ornement pour votre résidence. Cependant, nous vous le proposons à moindre coût sur notre site Mister Menuiserie.
Pourquoi opter pour un portillon alu ?
L'aluminium est le matériau idéal pour concevoir un portillon. Sa légèreté vous permet une manipulation plus facile. Et le fait que l'aluminium est de nature résistante donnera une longévité à votre portillon. En effet, l'aluminium résiste naturellement à la corrosion et aux chocs. C'est pour cela qu'il est beaucoup apprécié dans le secteur de la construction. Il est tout à fait adapté au milieu extérieur. Et il faut dire que le portillon aluminium a parfaitement la robustesse du modèle en acier.
À part cela, la flexibilité de l'aluminium permet d'avoir des formes variées. Vous pouvez alors trouver une large gamme de portillons alu sur le marché. L'aluminium peut être modulé à volonté et il permet d'avoir une finition impeccable. De ce fait, ce modèle de portillon ne risque pas de vous décevoir sur le côté esthétique.
L'aluminium est un matériau à la fois durable et écologique. La pose d'un portillon en aluminium est alors un pas vers la préservation de l'environnement. En effet, le déchet d'aluminium peut être réutilisé dans la menuiserie comme dans d'autres secteurs de construction. Par ailleurs, l'État encourage l'installation de menuiserie aluminium.
Emalu Canterbury : un bon choix de modèle
La marque Emalu traite son aluminium en profondeur par thermo-laquage. Ainsi, le portillon Canterbury résiste à la fois à la corrosion, à la rouille, à la salinité et aux chocs. Le modèle vous promet une longévité exceptionnelle. Avec le côté plus ou moins baroque du portillon, il apportera du caractère et de la noblesse à votre entrée. Son remplissage plein et sa forme droite vous protègeront efficacement des regards curieux des passants. Entièrement fait en aluminium, le portillon Emalu Canterbury est simple à manipuler et il est surtout facile à motoriser. Selon la taille du portillon, son poids peut varier entre 25 kg et 40 kg.
Dans le catalogue de la marque Emalu, vous avez aussi la possibilité de prendre un portail à deux battants Canterbury avec ce modèle-ci. Cela est également possible avec les autres gammes. Tous les modèles sont disponibles en portail, en portillon et en clôture. Avec le spécialiste de la menuiserie Emalu, vous pouvez commander un modèle à taille standard ou sur mesure. D'ailleurs, vous pouvez personnaliser directement votre portillon alu Canterbury sur notre site Mister Menuiserie.
Équipez votre portillon avec une motorisation et un interphone pas cher
Sur notre site, nous vous permettons de commander votre portillon Emalu Canterbury avec un kit automatisme et un kit d'interphone. Sinon, vous pouvez aussi choisir de ne pas en prendre. Mais, sachez que la motorisation facilitera encore plus la manipulation du portillon. Elle vous permettra de commander le portillon à distance. Tandis qu'avec un interphone, vous pouvez contrôler l'accès à votre résidence. Il vous permet de choisir d'ouvrir ou non le portillon. Les deux dispositifs reliés vous permettront d'avoir plus de confort et plus de sécurité.
Pour avoir ce portillon alu Canterbury avec une motorisation et un interphone à petit prix, il vous suffit de le commander sur notre site Mister Menuiserie. Nous vous donnons la possibilité de payer la commande en plusieurs fois. En plus, vous pouvez être rassuré, le paiement est bel et bien sécurisé. Profitez-en et bénéficiez également d'une livraison rapide et d'une garantie exceptionnelle de 10 ans sur ce portillon alu Emalu.
Features
- Material: 100% recyclable aluminium
- Vertical profile size (mm): 70 x 70 mm
- Horizontal profile size (mm): 60 x 40 mm
- Available standard height (in mm): 1500 - 1600 - 1700 - 1800 aside pillars
- Available in standard width (in mm): 800 - 900 - 1000 - 1100 - 1200 - 1300 - 1400 - 1500
- Different standard and bespoke RAL colours available
- Finishing: Plain boarded with decorative rosette
- Style: Straight top
- Weight of product: 25 - 40 Kg
- Manufacturer guarantee: 10 years
Recommended Products